Charlize Theron Holds Nothing Back in Kick-Ass 'Atomic Blonde' Trailer
She's half Bond, half Borne.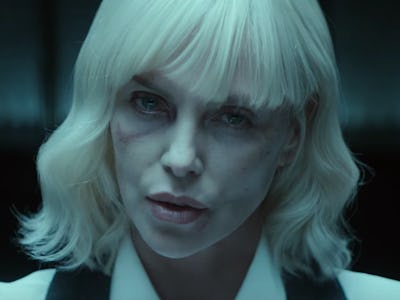 Universal Pictures
Charlize Theron may play a cunning criminal mastermind causing autonomous chaos behind-the-scenes in The Fate of the Furious, but the actress is getting right in the middle of the violence in the upcoming movie Atomic Blonde. The first trailer, which dropped on Friday, shows Theron's super-spy kicking ass, getting her ass kicked, and getting intimate with a fellow female agent. In other words, she's like James Bond and Jason Bourne put together with a hefty dose of high-octane camp thrown in for good measure.
Atomic Blonde, which is based on a 2013 graphic novel called The Coldest City, follows MI6 spy Lorraine Broughton (Theron) as she hunts down an espionage ring that's killing undercover agents in Berlin near the end of the Cold War. The red-band trailer really gets a lot of mileage out of that adult rating, as it opens with a lingerie-clad Lorraine before switching to a Daredevil-style hallway fight and a bloody, up-close headshot.
The film is directed by David Leitch of John Wick fame and the upcoming Deadpool 2. It features the acting talents of John Goodman as an American agent who works with Lorraine and Split's James McAvoy as David Percival, her roguish contact in Berlin. Sofia Boutella appears as a French operative, and she has a very explicit scene with Theron.
The trailer, set to Queen's "Killer Queen," is a bit of a mishmash. It starts out with some gritty Bourne Identity brutality, and then it looks like one of those jokey action movies like Red or Guy Ritchie's filmography. And then, at the end, it's kind of just softcore porn?
Atomic Blonde premieres at South by Southwest on March 12, but it won't come out in wide release until July 28.