New 'Fast and Furious 8' Trailer Shows Thousands of Self-Driving Cars in NYC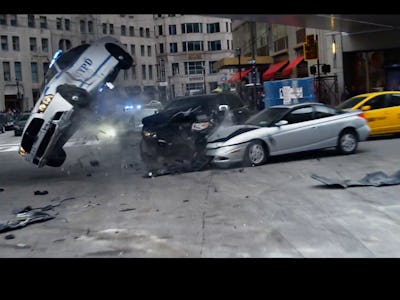 Universal Pictures
The Fast Family has blown up, run over, shot down, and punched out every villain it's encountered so far in the blockbuster Fast and Furious series, but in the Fast and Furious 8 the gang will encounter something that probably seems almost sacrilegious: self-driving cars.
Universal's new trailer for Fast and Furious 8, also known as The Fate of the Furious, shows thousands of self-driving cars rampaging through New York City in pursuit of Hobbes (Dwayne "The Rock" Johnson), Letty (Michelle Rodriguez), and the rest of the gang — minus Vin Diesel's Dominic Toretto, of course, who went rogue in the first ludicrous trailier.
From the trailer, it appears that Cipher, played with recklessly-dreadlocked abandon by Charlize Theron, hacks every self-driving car in New York City and uses them as a tidal wave of metal to trap the gang in place.
For a second here, we'll just revel in the Fast Franchise's future that includes thousands of self-driving cars, taxis, and city vehicles, and also the ludicrous action spectacle of robot cars driving themselves out of multi-story parking garages like a waterfall of steel.
But as unrealistic as it is, the scene probably won't do much to persuade people self-driving cars are safe. A University of Michigan study in February found that 33.4 percent of consumers are extremely concerned that self-driving cars without internal controls could be hacked and used as weapons. While anything connected to the ever-growing Internet of Things is a target for hackers, experts say that the fear of a Charlize Theron-style hacker-attack is pretty overblown. Eric Evenchick, a firmware designer and car hacking expert told Inverse in February that "cybercrime is a more likely occurrence" than terrorism when it comes to self-driving cars. And lawmakers are also attempting to get out ahead of the specter of autonomous car-hacking: Michigan's state legislature introduced two bills last year to make the crime punishable by life in prison.
Still, remote control of an autonomous vehicle is a feasible scenario. In July of 2015, Wired magazine went viral with the thrilling tale of hackers (in a controlled, legal setting) killing off a technologically-advanced Jeep in the middle of a test drive. While that may have put car hacking on the radar, automakers have also been taking steps to mitigate the problem. After a team of Chinese hackers demonstrated the ability to hack into a Tesla, Elon Musk's company quickly patched in a code-signing update to its vehicles, making them much harder to hack.
While the trailer shows the carnage of the self-driving tsunami, it doesn't show how Dom, Hobbes, Letty, and the gang will react to the most shocking part of the movie: cars without a driver. To the crew of hard knocks that has racing in its blood, a self-driving car is sacrilegious: cars don't drive themselves, you gotta drive them. You gotta race them. You gotta smash them into each other. You gotta jump them over submarines and blow them up with rockets and drive them off cliffs. By introducing self-driving cars into the Fast franchise, the series shakes one of its founding tenets to the core. It was never about the cars — because cars can't be family.
Watch the full trailer here: