Elon Musk Lunches at White House, Infrastructure's the Main Course
The SpaceX CEO has met with Trump several times since the election.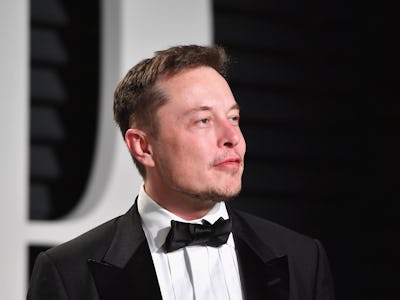 Getty Images / Pascal Le Segretain
Improving infrastructure in America has been a pillar of Donald Trump's political platform — funding it without sending the country into massive debt remains a pesky detail — since the beginning of his unlikely political ascent to the office of the president.
Infrastructure means an economic injection for areas where it's being improved, but it's also especially positive news for transportation nerd, traffic-hater, automaker, and aerospace architect Elon Musk, the South Africa-born futurist who's CEO of Tesla and SpaceX. He took lunch with Trump on Wednesday at the White House, dining with a number of business leaders and three regulatory chiefs appointed by the president, the White House said.
"The president held a strategic affairs lunch focused on infrastructure with leaders in the private sector," White House press secretary Sean Spicer told reporters. "Infrastructure used to be a point of American pride, but now an overbearing, ineffective regulatory system can keep projects in limbo for years."
Musk's boldest infrastructure plan now is The Boring Company, his tunnel-digging project that he hopes to use to alleviate traffic congestion by going underground. He's not kidding, and has even shared some cool pics of tunnels under D.C.. His new venture even has hats with logos. His legacy besides SpaceX and Tesla will also include hyperloop alpha, his 2013 whitepaper that spawned a new industry.
Below are the rest of Spicer's talking points about the "strategic lunch." It only received a few follow-ups from reporters in the room; immigration problems, selling a new healthcare plan, and the massive CIA leak dominated the briefing.
Removing "Regulatory Roadblocks"
The president has already started removing the regulatory roadblocks, that have been killing projects before they've even begun, through his executive actions, streamlining the permitting process and calling for each agency throughout the government to identify regulations that cause undue burden.
Public Private Partnerships
As the president has said many times, strong public-private partnerships will also be key to revitalizing our country's ruined roads, crumbling bridges, and outdated airports. The government has wasted too much of the taxpayer's money on inefficient and misguided projects. By looking at infrastructure from a businessperson's perspective, as the president has these executives do, we can restore respect for the taxpayer's dollar and make the best investment.
Who Else Was There
The president was particularly pleased to be holding this meeting now that secretary of transportation Chao, EPA administrator Pruitt, and energy secretary Perry are all confirmed and getting to work.
In attendance at the lunch were Secretary Chao, Secretary Perry, Administrator Pruitt, and then Richard LeFrak, CEO of LeFrak, Steve Roth, CEO of Vornado Realty Trusts, Josh Harris, co-founder of Apollo Global Management, Bill Ford, the CEO of General Atlantic, Lynn Scarlett, the managing director of the Nature Conservancy, Tyler Duvall, partner at McKinsey, and Elon Musk of SpaceX.