'Riverdale' Gets Renewed for a Second Season of Murder and Sexy Teens
'Riverdale' gets a Season 2.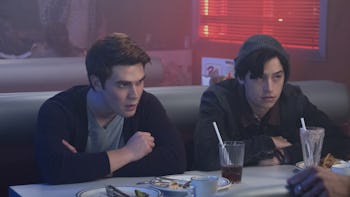 The CW
The CW's Riverdale, which puts a sexy noir spin on the universe of the classic Archie comics, has been renewed for a second season.
Season 1, which is currently airing, revolves around a Twin Peaks-esque murder mystery. Everyone has something to hide about the day the wealthy and unpleasant Jason Blossom was murdered, and most of it involves sex.
Archie Andrews was busy screwing his music teacher Ms. Grundy, Kevin Keller was aiming for a lakeside hookup with the football player Moose when he discovered the body, and Betty and her family hate Jason because he screwed around with her sister Polly.
In addition to all the sex and murder, Riverdale is brimming with batty subplots like Archie's aspiring music career, which is about 15 years too late to play in Buffy the Vampire Slayer's The Bronze. And for her part, Veronica Lodge seems more interested in Betty than Archie, and Jughead has ties to the local gang. Season 1 has yet to reveal the true murderer, but six out of a planned 13 episodes have aired so far. It remains to be seen whether that plot will carry over into Season 2 or if perhaps another murder will take place instead. Riverdale is a dangerous town, apparently.
Season 2 will premiere at an currently unspecified date on The CW.