'American Gods' Could Create Another Neil Gaiman Spin-Off Show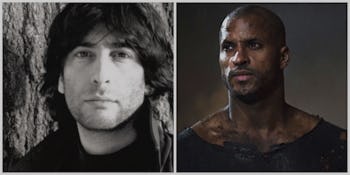 Getty/ Starz
Neil Gaiman's American Gods is about to bring Shadow Moon to life in the Starz TV show, but another of the author's books could become a spinoff show very soon. Mr. Nancy from Anansi Boys could join Shadow Moon's universe in an American Gods spinoff of his own series.
Nancy, portrayed by Orlando Jones, will already appear in the American Gods show. As the story revolves around a clash between old gods from folklore and new gods like technology and media, Nancy is among the old gods. He's an African trickster god who alternates between resembling a man in colorful suits and a giant spider. Although he plays a bit part in the American Gods novel, his role in the show could be larger. Shadow's wife, Laura, for example, who also has a relatively minor role in the novel, will be the focus of an entire episode of the television adaptation.
But in a recent interview, Jones suggested his role could be expanded even further. Mr. Nancy plays a larger role in Gaiman's American Gods universe than in the novel Anansi Boys, which stands alone and came out in 2005. In regards to a potential spinoff, Jones said,
…when Michael [Green] and Bryan [Fuller] had called me and asked me about playing the character and walked me through what they were thinking, part of the discussion at that time was Anansi Boys, and that they wanted to spin it off and pursue that character. As you know, the first season is really about setting up the world of American Gods and introducing you to all the wonderful characters. If there is a spin-off of any kind, I'd love to do it.
Here's Orlando Jones as Mr. Nancy:
American Gods premieres on April 30th on Starz.