The Obvious Reason 'Logan' Didn't Have Post-Credits Scene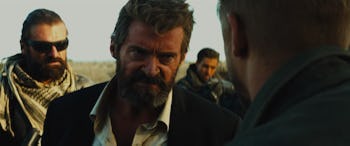 YouTube.com/20th Century Fox
The last ride of Hugh Jackman's Wolverine in Logan, which finally hit theaters over the weekend, didn't feature a stinger after its end credits. Fans of superhero movies are conditioned to stay put for extra scenes that tease what's to come, but Logan decidedly bucked that trend. The reason was obvious to its director, James Mangold.
In a conversation with the Toronto Sun, Mangold offers an explanation for why the last Wolverine movie didn't set anything up for, say, the Dark Phoenix storyline that will be told in the next X-Men movie.
"The only way we came out with a different movie was trying to do it differently. So I was pretty fanatical about saying, 'If this is how these other movies are doing it, we're going the other way.' If there's normally a cameo or an end-credit scene, we're not doing that."
With an R rating, gruesome violence, and personal stakes that don't involve the fate of the Earth, Logan is a remarkably different superhero movie from the more polished affairs like The Avengers, Batman v Superman, or even the "main" X-Men films from 20th Century Fox. Those films also contain teasers for future installments, which Mangold argues is not what good films should do. "That's essentially turning it into a product that has to come out of the widget machine the same way every time and that's not how the best movies are going to get made … in any genre."
Of course, Logan still wasn't without teasers. It just happened before the movie. A teaser for Deadpool 2 featuring Ryan Reynolds and a sweet, sweet Stan Lee cameo was attached to public screenings of Logan, ensuring fans that there is still more to come in this crazy universe.
Logan is out now in theaters.