The Best Weapon in the Robot PR Battle is Cute AF
Autonomous robots can be scary, but not when they look like this.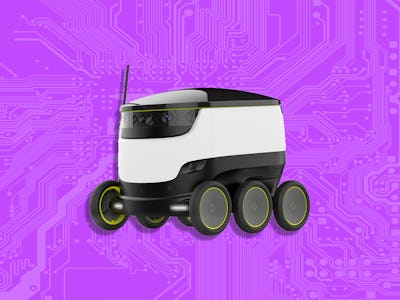 Getty Images / John Phillips
You've gotta fight for your right to have your pizza delivered by a robot.
Or, for that matter, any other delivery bot that weighs fewer than 50 pounds and tops out at 10 miles per hour. The candidate is a stout, Igloo-cooler looking, six-wheeled robot developed by Starship Technologies and the legislative campaign is beginning now state houses across the country.
The London-based Starship has been working to get bills on the books proposing that its autonomous cooler bot, along with other friendly delivery bots, can operate in the United States by seeking out potentially friendly state legislators. Together with a team of local lobbyists, the company has been working to win the hearts and minds of state representatives with one goal in mind — putting the autonomous delivery robot to work.
"What we're aiming to do is have thousands of robots in the future, in thousands of cities around the world," Henry Harris-Burland, head of marketing at Starship, tells Inverse.
That vision starts in places like Virginia, where last week, the governor made a law to make Old Dominion the first state to legalize autonomous delivery robots. Other states are working on similar legislation — and Starship is actively pursuing similar laws in Florida, Idaho, and Wisconsin.
"I'd like to say there's a master plan behind this, but really it's where we've found legislators that are particularly responsive to this technology," David Catania, a lobbyist for Starship in Virginia, tells Inverse.
It all started with a booth at the National Conference of State Legislatures in Chicago last August. Starship was one of the exhibitors trying to get the attention of state legislators, and brought one of the delivery robots to show off in the crowded hall across from the Skyline Ballroom. The robots are able to move autonomously with a two-mile range, have cameras to help them get around, and secure locking lids.
"It just happens that the speaker of the Wisconsin house visited our booth," says Catania. Robin Vos wasn't the only legislator to take interest, either. The booth also allowed Starship to connect with representatives in Idaho, Florida, and Virginia.
After talking with the Starship booth, Vos returned to Wisconsin, and personal delivery tech has become a priority in the state.
"Assembly Republicans made addressing the new technology of personal delivery devices a priority in their Forward Agenda that was released last fall," Kit Beyer, head of communications for Vos tells Inverse. The tech was prioritized because the Republicans believe that the state is not equipped to handle its arrival, and are working to make it legal.
The new law in Virginia, which goes into effect on July 1, adds "electric personal delivery devices" to the list of vehicles allowed to drive on sidewalks, unless they are specifically prohibited by local legislation. There are a few requirements — the autonomous little bots have to obey traffic laws, carry an ID with contact information for its owner, have working brakes, and only operate if there is a person monitoring its actions. The delivery robots are defined by the state as:
…[A]n electrically powered device that (i) is operated on sidewalks, shared-use paths, and crosswalks and intended primarily to transport property; (ii) weighs less than 50 pounds, excluding cargo; (iii) has a maximum speed of 10 miles per hour; and (iv) is equipped with technology to allow for operation of the device with or without the active control or monitoring of a natural person.
This opens up the state of Virginia for any autonomous delivery robot that fits the bill. Similar bills that are moving forward in Idaho, Florida, Wisconsin, and individual cities across the country.
Starship might be the first company to get into the delivery robot sphere, but it's certainly not alone. There are a number of different companies entering the space — from Dispatch's wheeled safe robots, the Relay hourglass-shaped hotel delivery robots, Gita, a BB8-esque delivery companion robot. There are even Domino's pizza robots in development.
Harris-Burland also says delivery robot solve a big problem: less people want to do jobs making short-range small deliveries.
"A lot of human couriers actually reject those deliveries when they're very short distances," he says. And for local businesses, it's often too expensive to offer delivery. Starship is hoping to get delivery costs down to a dollar or less.
The apparent acceptance of the delivery robots at this early stage is a surprising phenomenon, even to Harris-Burland, who says the response from lawmakers had been weirdly positive. The trick for Starship, he says, has been getting people to interact with the little cooler robot itself.
"People actually love the robot," he says. "We went out on Valentine's day and some kids were actually giving our robot roses. It's amazing to see the reaction of people that see these robots first-hand."