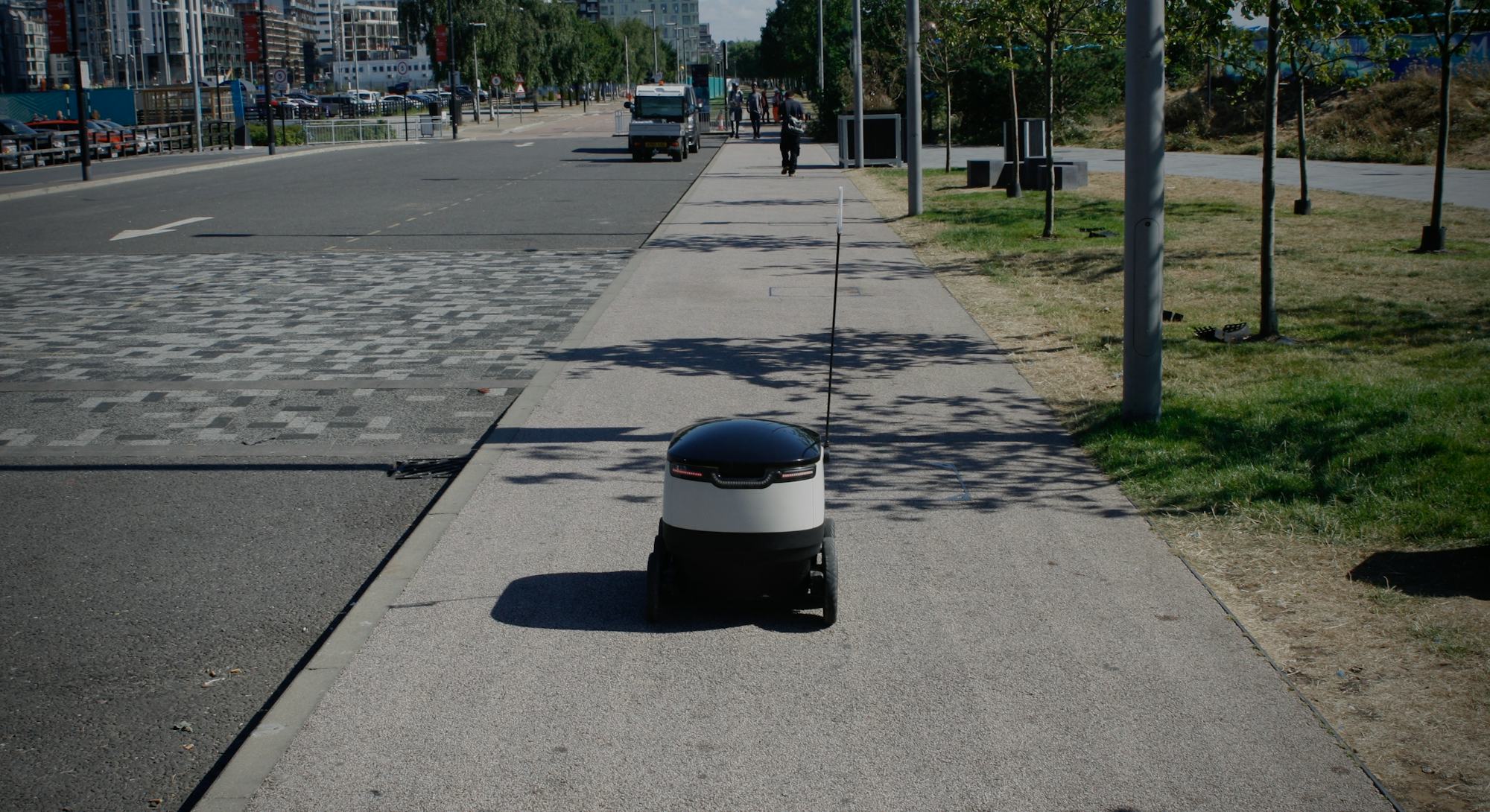 Innovation
If Drone Delivery Is the Future, People Are Pretty Chill About It
"Anything that you can buy online and fit in the robot, we can do."
Mike Brown/Inverse
From the floor-to-ceiling windows of the 11-story office building that houses the headquarters of Starship Technologies in London, you can see construction sites and corresponding posters that promise to construct even more office buildings just like this one. A sterile hodgepodge of hype, the area — the North Greenwich neighborhood — is a testament to how bold, exciting plans for reform may lay out a cold future.
It's with this backdrop that Starship is working to launch its new service: a fleet of autonomous delivery robots. There are plans to deploy them across cities like London, Washington D.C. and Tallinn, Estonia. It sounds like an efficient way to get hot pizza but the company's little bots have the potential to do something wider. If successful, it'll change the look of our sidewalks, shift the labor markets, and reposition consumer expectations around deliveries. It may sound grandiose, but Starship's tech may be on the edge of reforming human society.
And Allan Martinson, Starship's chief operating officer, can't wait. "It's a company where you can find it difficult to sleep at night," Martinson told Inverse, speaking from Tallinn at the company's main headquarters.
"One of the best excitements I've had in my life."
Founded in July 2014, Starship began as a brainstorming session between two Skype co-creators, Ahti Heinla and Janus Friis, looking to disrupt a new industry. The last-mile delivery sector seemed perfect. In the U.S. and Europe, 150-billion delivery transactions take place annually – 80 percent of which is personal shopping and groceries. Automating those deliveries would definitely shake an industry, and the company may be on the verge of doing just that.
"Anything that you can buy online and fit in the robot, we can do," said Henry Harris-Burland, marketing and communications manager at Starship, who gave Inverse a demonstration of a D-class bot (the latest model is an E-class). It's a prototype, but Starship has been testing the robots globally in 12 countries and 42 cities since November, trundling across nearly 10,000 kilometers (or 6,213 miles).
Who Will Use These Delivery Drones, Anyway?
The company is starting small, partnering with just two companies for the UK tests, due to start soon: Just Eat and Pronto. The former is a London-based delivery service that works much like Seamless, acting as a middleman between restaurant and diner. The company operates in 13 countries, handles around 10-million orders per month. Pronto is a health-focused food delivery firm that opened 18 months ago.
Just Eat tells Inverse it sees big opportunity for its restaurant partners. The six-wheeled drones will bring practical, measurable benefits: during peak hours — Friday nights — the robots can take on deliveries that would've otherwise gone unfulfilled or arrived late.
"This trial demonstrates our commitment to using our scale and expertise to improve the takeaway experience for customers, help our partners, lead the market and grow the sector," says Fernando Fanton, chief product and technology officer at Just Eat.
While Just Eat is a large, established business, the focus on food delivery makes it an ideal candidates for innovation. Pronto is similarly optimistic about the possibilities, and co-founder James Roy Poulter has an interesting viewpoint on the matter.
"I know that one of our drivers will die, given enough time. It's a fact. It's happened before," Poulter says, revealing he knew the head of a delivery company who had to tell a family their child died delivering pizza. "I know that that's gonna happen at some point, and so the faster we can innovate out of that problem, the better."
It's hard to look past the job loss delivery drivers will face, thanks to these machines. Starship explained that it isn't looking to replace delivery drivers for the first few 100 miles of transport. Instead, the company will focus on the few miles from the shop or restaurant to the home, one of the most inefficient parts of a journey. For last-mile drivers, Harris-Burland reasoned that cost savings associated with the robots could spur the economy. The company is aiming to offer on-demand delivery for £1 ($1.31), a price Harris-Burland says is unheard of. "That will obviously stimulate demand in other areas of the industry," he said. "That in turn can create jobs on the back of that."
There's just one problem, of course. The drones can't climb the stairs to your fifth-floor apartment or hit the buzzer so you can let it past the gate outside your home. Yet.
As the bot trundles on down a gravel path, most passersby give it the faintest of glances. That's what's surprising: the robot really doesn't cause a fuss among the general public. If anyone does try to take it, the compartment (big enough for three large grocery bags) is electronically locked, and the GPS can tell Starship its exact location at any time. But even children just give it a fleeting look. If this is the future, the public seems pretty relaxed about it.
Harris-Burland explains that Starship builds up a nine square-mile area for autonomous delivery. The maps are constructed in stages, so the robots grow more autonomous the more time they spend in an area – achieving 90 percent in around two weeks. They'll never reach full autonomy, since Starship intends for the robots to always have a human fallback. So if a robot encounters a confusing, unforeseen situation, it can phone an expert.
Harris-Burland explains in the area surrounding the Starship offices, the robots have just 15 percent autonomy. The prototype bot came from an office just a block over, though. If the company is working out of this area, why does the bot depend on humans for 85 percent of its movement?
"Greenwich is almost a testbed for the reliability of the hardware," Harris-Burland said. Many of the software tests were conducted in Tallinn, measuring how the bot could cope with snow and other treacherous conditions (it can). Greenwich, the second testbed for Starship, came at a point of relative maturity for the autonomous system, so tests around the area focused on hardware refinements. More recent models, for example, are able to roll up and over curbs.
It's vital work, as the company quickly approaches the big day when Starship bots can deliver across cities worldwide.