Lorde Waits for the 'Green Light' in Her Brand New Single
"But I hear sounds in my mind, brand new sounds in my mind."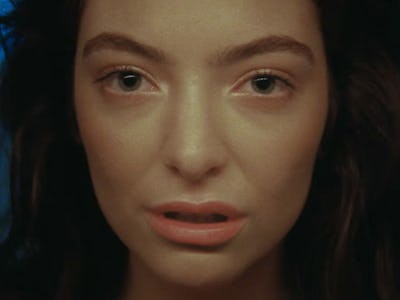 YouTube
Lorde's back and the wait was worth it. The 20-year-old New Zealand-born performer on Thursday dropped the music video for "Green Light," finally giving her fans some new music to get down to since her 2013 album Pure Heroine.
Aptly enough, the singer croons "but I hear sounds in my mind, / brand new sounds in my minds." Lorde's new song might have come after a four-year hiatus, but it sounds both fresh and familiar. There's no mistaking the singer's soulful voice backed by an electric tune and beats. And while it sounds like everything's rainbows and unicorns, there's some underlying sorrow in the lyrics, much like her past music.
The song's refrain goes, "Those great whites, they have big teeth / Oh, they bite you / Thought you said that you would always be in love / But you're not in love no more / Did it frighten you / How we kissed when we danced on the light up floor? / On the light up floor."
As for the music video, it's excellently simple. There are no performers other than Lorde herself, partying in the club and down sidewalks in a stylish magenta dress. At one point she's picked up by a black SUV. While riding, she sticks her body out of the window to feel the wind and even dances on top of it all while the driver smokes a cigarette and watches her. It's a perfect music video centered on Lorde herself considering fans haven't seen much from her in the past couple of years.
Also Thursday, she explained in an interview with Beats 1 the meaning behind the song:
"The song is really about those moments kind of immediately after your life changes and about all the silly little things that you gravitate towards. I say, 'She thinks you love the beach. You're such a liar.' What the fuck, she thinks you like the beach?! You don't like the beach! It's those little stupid things. It sounds so happy and then the lyrics are so intense obviously. And I realized I was like, 'How come this thing is coming out so joyous sounding?' And I realized this is that drunk girl at the party dancing around crying about her ex-boyfriend who everyone thinks is a mess. That's her tonight and tomorrow she starts to rebuild. And that's the song for me."
Lorde also tweeted about her new music, revealing that her sophomore album will be titled Melodrama along with a link to stream her first single.
People have been anticipating something new from Lorde ever since Saturday Night Live announced she'd be the musical guest on March 11. It's practically guaranteed that she'll be performing "Green Light" the night she's slated to be on the show.
Her new material comes not long after Lana Del Rey's debut of "Love".
Now we wait and see what she has in store for the rest of Melodrama.