Spider Expert Finds Biological Basis for Threesomes
Our thoughts on threesomes are too human-centric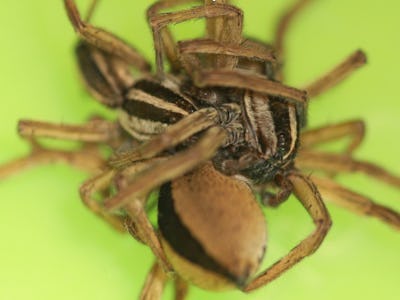 Matthew Persons, Susquehanna University
Late one night, Matt Persons shone a light into the bushes of his Pennsylvania backyard, looking for the familiar eight-bulbed flash of spider eyes. Persons, a behavioral ecologist at Susquehanna University, has been studying wolf spiders for nearly three decades. But in that time he had never seen what he saw that night: 24 spider eyeballs, shining back at him like a cluster of lustrous grapes. He had walked in on a threesome.
In later weeks, Persons observed two more spider ménages a trois, which led him to author a paper on its biological implications, soon to be published in the Journal of Arachnology. While threesomes have become common among pleasure-seeking humans, they don't happen particularly often in nature, where sex largely happens for the sole purpose of reproduction. But in an interview with Inverse, Persons suggests that our thoughts on threesomes are too human-centric in their focus on sexy feelings. What if threesomes actually do have a biological purpose?
In one spider throuple he "caught in the act," he explains, there was one male courting the female with a showy display, which she accepted by rotating and laying down flat, waiting for him to climb on. But all this time, a second, voyeuristic male watched in a corner, waiting for the pair to begin. Once they started to mate, the second male hopped on for the ride and the 24-legged trio continued to mate for the next four hours. Females have two copulatory organs, as do males, Persons says, so this "anatomical potential" makes it possible for her to have sex with both males at once.
The real winner here, he says, is the second, opportunistic male. Spider mating is inherently risky because females often eat the male after sex (all that action makes her hungry) and are choosy to begin with, often ignoring horny males. If one male takes the plunge and courts the female, risking death by cannibalism, and succeeds, then the "moocher male" can hop on for the ride and spread his seed without taking too much of a gamble.
"It's a great strategy if you're ugly, slow, timid, or lazy," Persons laughs, explaining that "parasitizing courtship" is a way for otherwise un-mateable males to ensure that their genes get passed on to the next generation. The moocher male's strategy is to capitalize on distraction: When the normally highly aggressive female is occupied with sex with another male — it's thought that males might secrete a sedative to make females catatonic during sex so they "don't freak out" — the chances she is going to eat and/or kill a male are slim. The first male, of course, gets cucked, but he still accomplishes his goal of transferring his semen to the female. In this occasionally deadly game of polyamory, she is the only real loser.
"It's probably to her detriment because it's not who she's chosen," Persons theorizes, though he acknowledges that this behavior could be interpreted as her version of a "bet-hedge." Because a female spider temporarily stores male sperm in sacs (known as spermaceca, or "sperm houses") rather than allow it to fertilize her eggs directly, allowing threesomes to happen might be her way of collecting the best options before deciding later. This process, known as "cryptic female mate choice," is not well understood. "Given the cost of reproduction, you'd think you'd see it in other species where sexual cannibalism is common," he says, but he notes that other researchers that tried to artificially induce threesomes among spiders found their subjects to have more conventional preferences.
In the future, Persons hopes to find out whether threesomes in the spider world are a common thing — or whether he was simply treated to an especially rare trio of voyeuristic experiences by the eight-eyed gods.