'Moonlight' Lead Might Make 'Green Lantern' His Next Move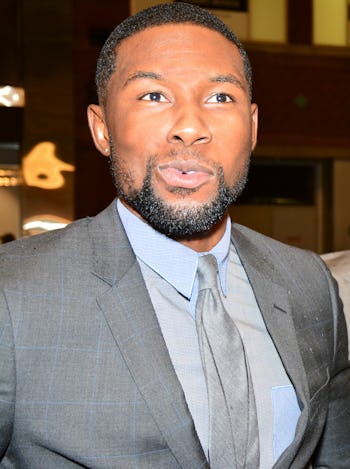 Anita Zvonar Photography / Contributor / Getty Images
Green Lanterns John Stewart and Hal Jordan are set to enter the DC Snyderverse in the near future. And some of the more enthusiastic DC fans know exactly who they want as their John Stewart: Trevante Rhodes of Moonlight (and Calvin Klein) fame.
The completely unconfirmed, totally speculative, and very hopeful question of whether or not Rhodes — the already storied lead actor behind Moonlight, 2017's Oscar winner for Best Picture — will take up a superhero mantle has everyone on their toes. The news that Warner Bros. has greenlit a Green Lantern Corps movie starring Green Lanterns Hal Jordan and John Stewart doesn't help the matter, as Rhodes is at the top of just about every fan-cast out there for Stewart, DC's iconic first African-American superhero.
MTV News prompted Rhodes on the Oscars red carpet with a question of whether or not he'd consider taking on the role, to which he said: "That is something that's really enticing, but more so because it puts my face in front of more people, who will want to [then] come and see a movie, like Moonlight, that I really care about."
Upon pressing, Rhodes responded a little uncomfortably with: "I don't know," shaking off any further questions. Rhodes' hesitation is understandable, as any more enthusiasm on his part could have brought the internet to its knees in anticipation. Not only would Rhodes signing to a superhero franchise be a huge win for DC, it would also add one more big name for fans to look forward to in future Justice League films.
While nothing has been confirmed for a Rhodes casting in Green Lantern Corps, fans are obviously very hopeful.