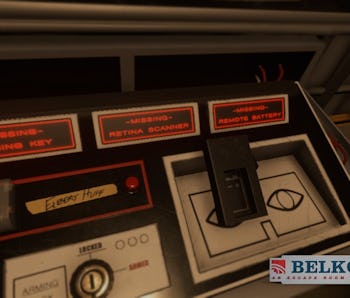 Entertainment
"Belko Experiment' Escape Room Will Make You Love Virtual Reality
We got to test out the movie tie-in game with its creator David Yarovesky.
YouTube
Escape rooms, virtual reality, and satirical horror movies aren't everyone's cup of tea. But the 15-minute anxiety rollercoaster that is the VR companion to upcoming horror flick The Belko Experiment, available for free on Steam this Friday only, should capture the attention of even the most casual fan.
Directed by David Yarovesky (The Hive) and Dan Clifton, the project was completed in about 11 weeks. Yarovesky served as supervisor for the long line of reporters who attempted to take charge of the spooky VR environment in the Microsoft Lounge this week. Not to brag, but I kind of did great.
First, some spoiler-free context: The entirety of the short game is pulled from The Belko Experiment's plotline, a highest-possible-stakes interpretation of the Milgram experiment in which 80 Americans are locked in a high-rise corporate office, following instructions from an unknown voice over the intercom that instructs them to kill each other to ensure their own survival. Belko was written by Guardians of the Galaxy writer-director James Gunn, and the VR companion is a major marketing push ahead of its March 11 release. Yarovesky and Clifton have collaborated in tie-in interactive environments before, having worked on on The Exorcist 360 Experience for 20th Century Fox Television, but this one-use-only VR adventure created with LA-based Paper Crane Games makes the most of the interactive VR medium and its source material, along with serving as a killer commercial.
Now, for the game itself: You, the player, are trapped in a small office in Belko headquarters, which is presumably not too different from the one the film's protagonists find themselves in. A phone rings, you speak briefly with a co-worker who doubles as your best friend … and then the lights go out. Then an intercom informs you that you've got 15 minutes to escape the office using a control panel attached to the wall … and if you don't, a small explosive device in your head will go off, blowing you to bits Elmer Fudd-style.
It's a simple and familiar enough premise — solve the riddle or die — leaving it to the environment and the ticking clock to keep things interesting. Without giving too much away, it delivers in all the areas the novice VR explorer is looking for, from offering interactivity with everything in the environment, easy movement with simple teleport commands, and above all, an absence of the latent queasiness that has kept so many from getting into the medium wholeheartedly.
I didn't quite get through the entire game with the time constraints on the first try, but it's not inconceivable for first-time players to do so, especially if they've been dragged out to an escape room with their old college buddies before. Whenever I felt stuck or overwhelmed by the time remaining or just general hesitation, the game intuitively inserted the panicked co-worker who was left on speakerphone to deliver subtle — and not-so-subtle — hints to push me in the direction of the next clue, as well as some healthy verbal abuse. Keep your eyes peeled for creepy Easter eggs like a small rat infestation, an escaped office arachnid, and a sexy Playboy-esque rag while you're, you know, fighting for your life. If you do manage to get through the challenge after a few tries, the ghoulish finale is well worth the wait.
While VR is still in its infancy, the Belko Experiment escape room is one of the first filmic integrations that doesn't feel completely shoehorned into an unrelated piece of media. This could be because its creators are more well-versed in film and story than in game mechanics in the traditional sense. Film ties aside, Yarovesky and Clifton were more or less given a creative blank check in developing the escape room and pulled from their own experience with gaming and the experience of the ever-popular escape room experience.
"I made music videos and commercials for ten years, then made my first film, and this process was shockingly similar," Yarovesky told me. "We came up with a game document that lays out every single aspect of the story, almost a merger of an interactive script and a treatment I would right for a music video." This presented the writers with a need to consider a player's every potential move in the right or wrong direction, choose-your-own-adventure style.
"If you pass puzzle one, then one line will play. If you're struggling, then a different line will play. If you need help with a puzzle, a different line will play. There's hint or panic lines for ten minutes, nine minutes, eight minutes, and so on," he added, referencing the ticking clock that will mark the game's end, win or lose. "It ends up being a lot [of permutations]."
While the Belko Experiment VR escape room doesn't serve as a game that can be played over and over with different results, Yarovesky believes it's exactly the sort of project that's low-commitment, interactive, and accessible enough to get more of the non-initiated to give VR a shot.
"Escape rooms are the easiest entry point for VR right now," he told Inverse. "It's just 15 or 20 minutes of your time. It opens up possibilities without being too much."