Everything We Know About Stephen King's 'Castle Rock' Series
Stephen King and J.J. Abrams are teaming up with Hulu to bring the fictional Castle Rock to life.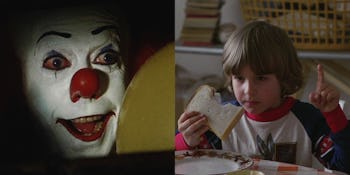 Warner Bros. Pictures
An ongoing TV series from horror genre-master Stephen King feels long overdue — clearly, Hulu and J.J. Abrams thought so too. News about an original horror anthology series, Castle Rock, based on an unknown number of the award-winning King's novels broke on February 17. No doubt, the mysterious show will be prime horror.
Little is known so far about Castle Rock, but Hulu's February 25 press release did give a brief, evasive synopsis:
Castle Rock is an original suspense/thriller — a first-of-its-kind reimagining that explores the themes and worlds uniting the entire King canon, while brushing up against some of his most iconic and beloved stories.
To provide some context: Castle Rock is the name of a fictional town in Maine, which acts as the setting for many of King's novels and short stories, including Cujo, The Dead Zone, The Dark Half, Needful Things, "The Body," "Uncle Otto's Truck," "Mrs. Todd's Shortcut," The Sun Dog," and "It Grows on You" — and those are just the stories that take place directly in the town.
The fictional Castle Rock is also mentioned in over 20 of King's other works, including Pet Sematary (where the events of Cujo are mentioned), IT, The Stand, Under the Dome, and Doctor Sleep. King's novels are famously known for taking place primarily in the Northeastern U.S., mainly in Maine, and frequently reference one another through furtive bits of dialogue or in-book maps that point to other fictional towns.
After 40 years and over 50 pieces of work, King has built himself a sufficient boggling universe — the King-verse — within which to tell the story of the upcoming Castle Rock. A teaser trailer, originally released on February 17 and currently sitting at over 1 million views, makes references to Salem's Lot, Needful Things, Shawshank State Prison from King's 1982 novella "Rita Hayworth and Shawshank Redemption," Annie Wilkes from Misery, Pennywise from IT, Danny Torrance from The Shining, and countless other characters and storylines, woven together by a spidery, blood-red web.
Castle Rock currently has a first season order of 10 episodes. The project will be Abrams and King's second team-up with Hulu after the limited series 11.22.63 starring James Franco.
Hulu did not respond to Inverse's request for comment at the time of publication.
No premiere date has been attached to Castle Rock.