Tesla Sexual Harassment Suit Alleges It Shipped 'Defective' Cars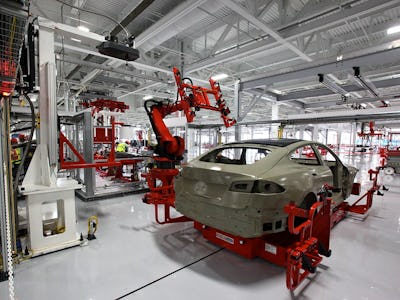 Getty Images / Ethan Miller
A new lawsuit concerning sexual harassment at Tesla claims the company ignored a female employee's concerns that cars were being "sold in a defective state," due to substandard quality testing. The lawsuit alleges that the company pushed back against her concerns and punished her by denying overtime pay, rest breaks, and meals for being a "whistleblower."
The lawsuit was filed last fall by AJ Vandermeyden, who spoke to The Guardian's Sam Levin about her experiences as an engineer at Musk's company. A Tesla spokesperson called The Guardian's original story "misleading," claiming that an independent investigator retained by the company over a year ago found that Vandermeyden's complaints "have not been substantiated," in a statement to Inverse.
Publicly, the company's cars are known for having good safety record. In 2013, the Tesla Model S received a five-star safety rating in every category from the National Highway Traffic Safety Administration, the best rating ever awarded.
But Vandermeyden, who still works at the company, also alleges in her complaint that supervisors and male engineers had missed flaws in the cars being sold. She presented a solution to the company but still found that male co-workers were offered elevated positions instead over her. She also alleges she and other female co-workers were "equally or more qualified" than the men getting promoted. The Tesla spokesperson claims Vandermeyden was advanced into "at least one other new role," after her complaints of discrimination, which the spokesperson said was "evidence of the fact that Tesla is committed to rewarding hard work and talent, regardless of background."
Still, Vandermeyden's lawsuit describes a company culture at Tesla that allowed men would harass women on the factory floor, overtime pay and meal periods were not offered, and complaints about inequality were dismissed with "we're focused on making cars, we don't have time to deal with all this other stuff."
Here's the Tesla spokesperson's full statement:
Tesla is committed to creating a positive workplace environment that is free of discrimination for all our employees. Ms. Vandermeyden joined Tesla in a sales position in 2013, and since then, despite having no formal engineering degree, she has sought and moved into successive engineering roles, beginning with her work in Tesla's paint shop and eventually another role in General Assembly. Even after she made her complaints of alleged discrimination, she sought and was advanced into at least one other new role, evidence of the fact that Tesla is committed to rewarding hard work and talent, regardless of background. When Ms. Vandermeyden first brought her concerns to us over a year ago, we immediately retained a neutral third party, Anne Hilbert of EMC2Law, to investigate her claims so that, if warranted, we could take appropriate action to address the issues she raised. After an exhaustive review of the facts, the independent investigator determined that Ms. Vandermeyden's "claims of gender discrimination, harassment, and retaliation have not been substantiated." Without this context, the story presented in the original [Guardian] article is misleading.
Vandermeyden's lawsuit is the second time this month that Tesla has been hit with accusations over its safety policies. Jose Moran, who claims to be a production specialist at Tesla, wrote a viral Medium post stating that employees are forced to work with poorly designed machines that lead to injuries. Musk hit back, claiming that Moran was paid to join Tesla by the United Auto Workers union, which the union described as fake news, and later claimed that Tesla's Total Recordable Incidence Rate of workplace injuries was less than half of the industry average.
Therese Lawless is representing Vandermeyden in the lawsuit. Lawless also represented former Reddit CEO Ellen Pao on her 2015 gender discrimination case against venture capital firm Kleiner, Perkins, Caufield and Byers. She is also a partner at Lawless & Lawless, a firm that was awarded the Distinguished Law Firm Award by the American Association of Justice.
Update 5:15 p.m. Eastern: This story has been updated to include comment from Tesla.