9 Movies About Sex Available to Stream on Netflix
In the mood but don't want to waste time browsing? We've got you covered.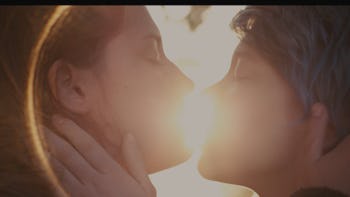 Canal + Facebook 
Nothing is more of a buzzkill on date night — or Netflix and chill night — than spending an hour browsing through movie selections. Luckily, now you don't need to, because we've got you covered with a concise breakdown of the best sexy movies that are currently streaming on Netflix. Because everyone gets turned on by different things, here's a diverse selection of movies that have titillation, intrigue, and sizzle in all different ways.
1. The Little Death
This romantic comedy is essentially a better-crafted, more provocative, and smarter Love Actually. From Australian writer, director, and star Josh Lawson, The Little Death is a series of linked vignettes that each explore a couple with an unusual relationship dynamic or fetish. One couple navigates the woman's rape fantasies that an earnest man tries to fulfill; in another, the man has a fetish for sleeping women; another woman can only get turned on when her husband cries. Some of the stories work better than others — the highlight is a phone sex chat between a call operator and a deaf man, while the sleep-fetish story never manages to overcome its uneasy premise. But as far as sex movies with linked vignette formats go, The Little Death reigns supreme.
2. Blue Is the Warmest Color
This critically acclaimed French erotic drama earned a Golden Globe nomination in 2013 for Best Foreign Language Film. Starring The Lobster's Lea Seydoux, it's a coming of age story about a young woman who discovers her sexuality and falls in love with another woman. Their relationship is passionate but tumultuous with a bittersweet ending.
3. Y Tu Mamá También
Although Alfonso Cuarón has gone on to do films like Gravity, Children of Men, and Harry Potter and the Prisoner of Azkaban, he'll always be known for making the Diego Luna and Gael García Bernal threesome movie. It's a critically acclaimed Mexican film that's simultaneously sexy, moving, and melancholy.
4 Nymphomaniac Volumes I and II
Both volumes of Lars von Trier's two-part epic sex odyssey Nymphomaniac are currently on Netflix. Whether or not you find it titillating might depend on how you feel about a sex scene with Shia Labeouf. But above all, it's an artistic and unflinching study in sex.
5. Basic Instinct
The classic erotic thriller that launched a thousand leg-crossing memes is now streaming. Famous moment aside, it's a sexy and suspenseful thriller that's well worth a watch.
6. Kink
Produced by James Franco — because of course — Kink is a documentary centered around the BDSM website Kink.com and the people behind it. Above all, it's a fascinating look at the often-misunderstood BDSM subculture. If 50 Shades of Grey didn't cut it for you, this is the real deal.
7. Weekend
This award-winning British indie film chronicles follows to men who meet at a gay club for an ostensible one-night stand that becomes much deeper. Honest, moving and sexy, it's one of the best gay films out there. It's got a 95% on Rotten Tomatoes, to boot.
8. Bound
If you're in the mood for sex and B-movie style camp, this is the movie for you. It stars a Baldwin brother and Charisma Carpenter (aka Cordelia from Buffy the Vampire Slayer and Angel) as a real estate broker who becomes involved in a series of BDSM relationships. It's utterly torrid, filled with cheating and multiple family members sleeping with the same person. It's rip-roaringly fun if you're looking for a "so bad it's good" movie that's dripping with sex.
9. Jane Eyre
Because not all sexy movies are explicit. Tea, drafty manor houses, letter writing, and lingering glances are sexy, damn it.