What Happens to Dicks in Space?
The answer to the hardest space question of all.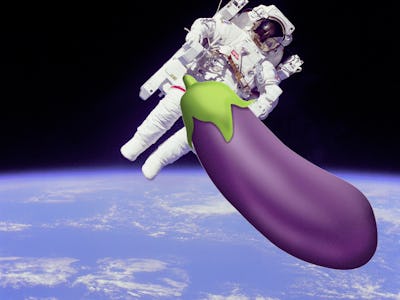 Wikimedia Commons/Linda Tran—Inverse
Passengers, which hits theaters Wednesday, features two sexy humans — Chris Pratt's Jim Preston and Jennifer Lawrence's Aurora Lane — all alone in an equally sexy spaceship. Of course, the two tumble into a bed and have sex. Which means Jim Preston — along with any male with a penis — probably wondered about a very important question: What happens to a dick in space?
Space, as might be expected, negatively (and positively!) affects the physiology and behavior of your member. Billions of years of evolution on this planet has occurred under the context of gravity. The biological processes of an organism — from the individual cell, to tissues and organs, to entire organ systems — have all made transformations in an environment with gravity (yes, even Godzilla's dick). Throwing all that out and dumping someone into a microgravity or zero gravity environment means their body will change.
First thing's first: Microgravity does not make a penis bigger. That's a myth borne from some faulty logic about getting taller in space. But that's simply by about a mere inch, and it's a result of your spine stretching out. Your penis, however, has no bone within it. There's nothing that weightlessness could stretch out since the structure is all mediated by tissue and blood flow.
And since the penis isn't getting stretched out, it's probably getting, um, smaller. Gravity helps aid the flow of blood to lower parts of our body, including the junk. In space, lack of gravity means more blood is flowing to the head and chest, resulting in lower blood pressure to all parts below the waist. Low blood pressure in space means that in all likelihood, tissue is shrinking — maybe just a tiny amount, but a definite potential.
Relatedly, your boner will probably suffer. Blood flow is essential to get an erection, and lower blood pressure would mean it would be harder to get an erection — and harder to keep it going.
There's another issue that might make your stiffy collapse — testosterone levels fall while in space. Exactly why is unclear, but one would imagine it could be a combination of factors: fluctuations in hormone levels as a result of microgravity and confined living quarters, lack of physical activity, lack of sexual activity, changes in diet, problems in sleep patterns, and many others. The result, however, makes it once again more difficult to keep an erection.
Well, in most cases that's true. Former astronaut Mike Mullane told Men's Health in 2014 that fluid shift (a common problem in space where the body's fluids move into different compartments as a result of changes in pressure) resulted a couple times in morning wood which Mullane said he could have "drilled through kryptonite."
Does space have any other major effects on dicks? It's possible: Nobody knows what might happen to the ol' doodle-dasher if someone were to spend more than just a few months in space. Former astronaut Scott Kelly spent a 340-day stint in orbit, making it the longest duration mission in modern history, but he and his ISS-mate Mikhail Kornienko are just two people. It's entirely possible that different dicks react differently in space, and it's probably that it takes longer than a year for more serious side effects to manifest.
The main cockblocker to really understanding dicks in space is the simple fact that the biophysics of the penis haven't been studied, at least not explicitly. NASA is tightlipped about how space affects the genitals, and astronauts haven't leaked anything either. (Of course, NASA pretty much pretends there's no such thing as sex, so, who knows if they've even tried to collect such data.)
That sort of makes sense considering the agency is a publicly-funded institution: Some people would probably be mortified to see their tax dollars go to research on dicks. Here's hoping the rise in commercial spaceflight means more ballsy scientists will be able to take a stab at this very important question.