Before 'Horizon Zero Dawn,' There Was 'Killzone'
A brief history on the minds behind Sony's latest exclusive.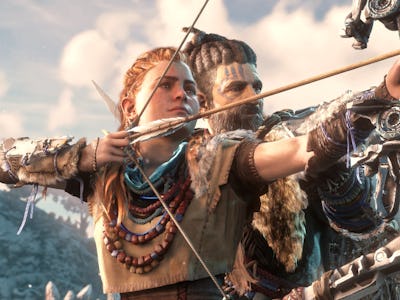 Sony
This week marks the release of Horizon Zero Dawn, one of Sony's biggest PlayStation 4 exclusives coming out this year alongside Uncharted: The Lost Legacy from Naughty Dog and Detriot: Become Human from Quantic Dream. In Horizon Zero Dawn, players take on the role of a lone hunter named Aloy, who leaves the shelter of her tribe in search of answers regarding the nature of her world. You'll navigate gigantic, open-world environments hunting robotic creatures, uncovering secrets, and working to become a truly formidable survivalist. Despite being a new IP, Horizon Zero Dawn comes from one of the most respected first-party developers working for Sony: Guerrilla Games. But before the world of Horizon Zero Dawn even reached the drafting table, Guerrilla was known for their work on a little set of PlayStation exclusives called Killzone.
Founded in 2000 when three small Dutch development studios made the decision to merge into one company, Guerrilla Games got its name when it was sold to Media Republic. The team began working on their first two titles: Killzone for Sony Computer Entertainment on the PlayStation 2, and Shellshock: Nam '67 for Eidos Interative on the PlayStation 2, Xbox, and Windows PC. While both titles were not received very well, Killzone had the full media support from Sony when it was released on the PlayStation 2. This encouraged Guerrilla Games to sign an exclusive development agreement in 2004 for Sony's systems.
Through this agreement, Guerrilla Games began development on Killzone 2 for the PlayStation 3, during which Sony acquired the development studio from Media Republic, where it has remained a first-party developer ever since. Upon release, both Killzone 2 and Killzone 3 were consistently praised for their gorgeous visuals, brutal approach to combat, and unique take on multiplayer for players to dive into online, encouraging the development studio to expand into new projects like a title for Sony's PlayStation Vita, Killzone: Mercenary, and the concept which would later become Horizon Zero Dawn.
When the PlayStation 4 console launched in late November 2013, Guerrilla Games built Killzone Shadow Fall as a launch title, using a new in-house game engine which now powers Horizon Zero Dawn called Decima. Like previous entries in the Killzone series, Killzone Shadow Fall was praised for the development teams attempt to change up the single-player campaign (although the narrative wasn't well received), and the game's visual fidelity on the PlayStation 4.
Once Killzone Shadow Fall was released and support was finished, Guerrilla Games took to the stage during Sony's E3 press conference in 2015 to announce a new project completely different from anything they had done before. Pulling back from the studios established first-person into a third-person perspective. Horizon Zero Dawn was a risky departure from the studio's established formula, built from the ground up as a gigantic, open-world role-playing game complete with all the usual RPG mechanics such as a dialogue wheel, character skill trees, and crafting. But it looks like the massive departure from their roots paid off in the end, with Horizon Zero Dawn receiving favorable reviews across the board leading up to its public release this week.
Horizon Zero Dawn is available in stores February 28.