These New 'Ghost in the Shell' Posters Are Super Trippy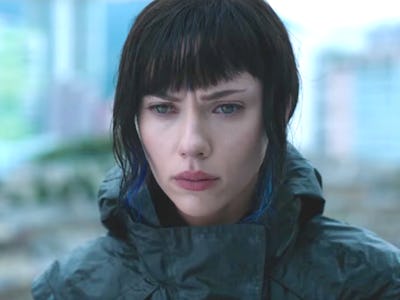 Paramount Pictures/DreamWorks
Despite her position as the main character, Major is not the only member of Section 9. Some new character posters for the upcoming Ghost in the Shell seem determined to remind the world of that.
A set of eight animated character posters for Paramount Pictures' Ghost in the Shell finally gives a real (if grainy and a little trippy) look at seven other characters alongside Johansson's Major. Included in the lineup are the members of Public Security Section 9, the intelligence department overseen by the Ministry of Internal Affairs.
Ghost in the Shell is based on the award-winning manga series of the same name by writer and illustrator Masamune Shirow.
The posters give a ten-second look into the abilities and specialties of the characters in the film's Section 9 team: Major, Batou, Ladriya, Aramaki, Borma, Ishikawa, Saito, and Togusa. Most brandish weapons underneath a groaning techno track, but a couple — Major and Aramaki in particular — simply stare into the camera, which somehow feels even more intimidating.
Major, played by Scarlett Johansson
Batou, played by Pilou Asbaek
Ladriya, played by Danusia Samal
Aramaki, played by Takeshi Kitano
Borma, played by Tawanda Manyimo
Ishikawa, played by Lasarus Ratuere
Saito, played by Yutaka Izumihara
Togusa, played by Chin Han
Ghost in the Shell premieres in theaters March 31.