The 5 Nintendo Switch Launch Games You Don't Want to Miss
When you pick up Nintendo's new console, don't forget about these great games.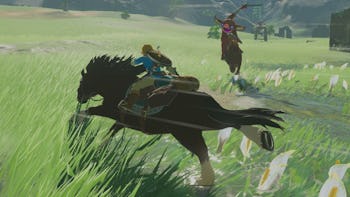 Nintendo
The long-awaited release of Nintendo's next console is right around the corner, bringing the next entry of The Legend of Zelda, among other titles, to kick off a new generation of gaming for Nintendo fans around the world. As we all know, a console isn't worth anything without a solid lineup of video games to support it at launch, and Nintendo is working hard to make sure that players have a great set on offer when the Switch hits store shelves on March 3.
While the Wii U offered an overall larger amount of launch titles back in 2012, the Nintendo Switch has a set of promising ones you don't want to miss. Here's the best titles available at launch.
Shovel Knight
Originally released in June 2014, Shovel Knight is a classic 2D side-scrolling platformer which closely resembles many of the core gameplay mechanics behind Nintendo's earlier titles like Super Mario Bros. and Metroid.
Players control an adventurer known as Shovel Knight who is searching for his beloved after she was trapped in the Tower of Fate by a cursed amulet. Over the course of the game, you'll be jumping on enemies, digging up treasure, and navigating complex environments while acquiring various items to help you defeat the boss at the end of each level.
I Am Setsuna
Developed by Tokyo RPG Factory and published by Square Enix, I Am Setsuna is a role-playing game where players control a party of characters to navigate environments and defeat bosses as you would in a classic Final Fantasy title. Essentially, it's a re-creation of the classic RPG — one which released on the PlayStation 4 and PC last year before becoming a launch title on the Nintendo Switch. With an interesting story following a mercenary escorting a maiden who must offer herself as a sacrifice to appease hostile demons invading the world, this experience is one you won't want to miss if you're looking for an old-school RPG.
1-2-Switch
Much like Wii Sports before it, 1-2-Switch is set to be the standard collection of party games which you can play using the Nintendo Switch's removable controllers. Instead of playing on the screen in front of you, however, the various experiences offered by 1-2-Switch are typically designed to make you look at your opponent directly, bringing a more personal and hilariously awkward experience to activities like a cow milking race or Western standoff.
Snipperclips
Easily our most anticipated launch title besides The Legend of Zelda: Breath of the Wild, Snipperclips revolves around one to four players working together to survive a chaotic, fun-filled set of levels like you would find in Portal 2's cooperative campaign. Based on the gameplay Nintendo has shown so far, the game is all about cutting your friends into specific shapes required to solve different puzzles while discussing how to best snip and clip your way through each other to complete each objective.
The Legend of Zelda: Breath of the Wild
Undoubtedly the biggest launch title available for the Nintendo Switch, The Legend of Zelda: Breath of the Wild has been a long-time coming for Nintendo fans. Set to introduce a completely new adventure for Link and his companions, Breath of the Wild reportedly mixes the best elements of The Legend of Zelda with modern game mechanics such as survival, crafting, and the ability to play through the game in any order you please. With a set of gorgeous visuals, refined physics, and a massive world to explore, this is the one title you won't want to miss at launch.