Reminder: 'Get Out' Star Plays Black Panther's Bodyguard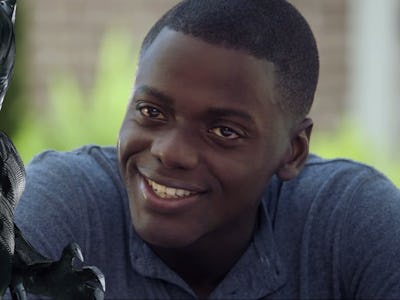 YouTube.com/Universal Pictures
Jordan Peele's socially-conscious horror satire Get Out is killing at the box office and with critics, attaining a rare 100 percent rating on Rotten Tomatoes. But the film's breakout lead, Daniel Kaluuya, isn't kicking back to soak in the praise. Kaluuya is already at work shooting Marvel's Black Panther with director Ryan Coogler, where he's playing W'Kabi, the loyal second-in-command to T'Challa.
In the comics, W'Kabi — introduced in Avengers #62 by Roy Thomas — was the loyal Chief of Security who commands Wakanda's forces. Besides being a well-trained soldier, W'Kabi's right arm was bionic, which allowed him to emit energy blasts. And because of his fierce loyalty for Wakanda, W'Kabi was also hostile towards outsiders, such as Everett K. Ross, who works in Wakanda for the US State Department. (In the MCU, Ross works for the Joint Counter Terrorist Center and is played by Martin Freeman.)
In Reginald Hudlin's run on Black Panther in 2009, W'Kabi was killed while defending a wounded T'Challa from the supervillain Morlun, who was seeking to destroy all of Wakanda. While T'Challa handed his Black Panther mantle to his sister, Shuri, W'Kabi and Zuri — another Wakandan warrior — distracted Morlun. Their sacrifice paid off, because Shuri was able to defeat Morlun and save Wakanda. Zuri will be played by actor Forest Whitaker in Black Panther.
While Morlun isn't the villain in Black Panther — the role will be Michael B. Jordan's Erik Killmonger, an exile who seeks to overthrow T'Challa's throne — it's still advisable to prepare for a heroic death on the part of Whitaker's Zuri and Kaluuya's W'Kabi. Even so, Kaluuya is no stranger to superheroes: He played Black Death in 2013's Kick-Ass 2.
Get Out is now playing in theaters. Black Panther will be released on February 16, 2018.