Why This Oscar-Winning Iranian Filmmaker Boycotted the Ceremony
Asghar Farhadi was affected by Donald Trump's travel ban.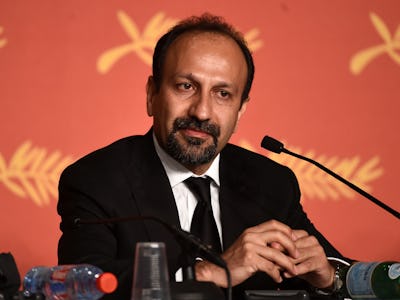 Getty Images / Ian Gavan
This year's Oscar winners are using their speeches to make a point in this political landscape and on Sunday night The Salesman won the award for Best Foreign Language Film. But Iranian filmmaker Asghar Farhadi wasn't there to accept the award in-person and instead had a proxy deliver his speech calling out Donald Trump's Muslim ban.
Farhadi already made headlines earlier in January when he announced that he would not be attending the award ceremony due to the president's executive order, which barred people from Iran and six other countries from entering the United States.
He sent two prominent Iranian Americans, former NASA director Firouz Naderi and engineer Anousheh Ansari, in his place.
After The Salesman won its award, Ansari read his statement onstage:
"I'm sorry I'm not with you tonight. My absence is out of respect for the people of my country and those of the other six nations whom have been disrespected by the inhumane law that bans entry of immigrants to the U.S."
"Dividing the world into the 'us' and 'our enemies' categories creates fear, a deceitful justification for the aggression and war. These wars prevent democracy and human rights in countries which have themselves been victims of aggression. Filmmakers can turn their cameras to capture shared human qualities and break stereotypes of various nationalities and religions. They create empathy between us and others and empathy which we need today more than ever."
The Salesman tells the story of a high school teacher whose wife is attacked by a person that breaks into their apartment. Farhadi's film was up against Land of Mine (Denmark), Toni Erdmann (Germany), A Man Called Ove (Sweden), and Tanna (Australia).
This is the filmmaker's second award, having made history back in 2012 when his film A Separation became the first Iranian to win an Oscar.
Earlier in the night, Mahershala Ali became the first Muslim actor to win an Oscar for his role in Moonlight.
Leading up to the show, the directors nominated for the Best Foreign Language Film released a joint statement communicating their disapproval of the United States' political climate, even though the ban has now been lifted after a federal appeals court rejected to reinstate the order.
The directors write:
Regardless of who wins the Academy Award for Best Foreign Language Film on Sunday, we refuse to think in terms of borders. We believe there is no best country, best gender, best religion or best color. We want this award to stand as a symbol of the unity between nations and the freedom of the arts.
Human rights are not something you have to apply for. They simply exist — for everybody. For this reason, we dedicate this award to all the people, artists, journalists and activists who are working to foster unity and understanding, and who uphold freedom of expression and human dignity — values whose protection is now more important than ever. By dedicating the Oscar to them, we wish to express to them our deep respect and solidarity.