Ben Affleck Denies Suspicion He's Leaving Batman Completely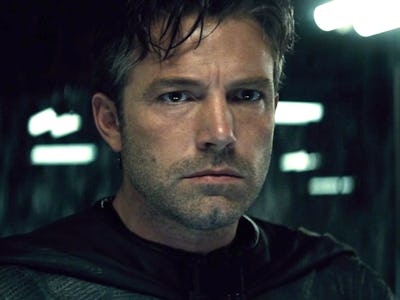 Warner Bros. Pictures
Just a few weeks ago, the DC movie universe looked like it was on fire. A lot of the smoke came from The Batman, with Ben Affleck stepping down as director and reportedly trying to get out of playing Batman too. But when War for the Planet of the Apes director Matt Reeves, who's had his own saga of ups and down with the franchise, finally locked down the gig as director, Ben Affleck welcomed him on Twitter. It's all but confirmation that Affleck isn't going anywhere.
On Thursday night, Ben Affleck posted a tweet congratulating Matt Reeves for getting on The Batman. "Welcome to the Batcave, @MattReevesLA," he wrote with a screengrab of himself in front of the Batcomputer from Batman v Superman: Dawn of Justice. Reeves replied back: "Ha! Thanks so much, man. So excited."
And with that, a message in less than 140 characters says everything: Ben Affleck is still Batman, for now. Not long after giving up the director's chair for the solo Batman movie, John Campea of Collider Movie Talk said "multiple" sources near Warner Bros. indicate that Affleck wanted out. "He doesn't want to be Batman anymore," said Campea. "I have been told that Affleck is talking with Warner Bros. in an attempt to get out of being Batman, and if they do not let him out of being Batman that the standalone Batman film that ultimately happens will be the last time we see Affleck as Batman."
Well, the standalone Batman movie is happening with Matt Reeves and, at least for now, Ben Affleck as the Caped Crusader. But with news that Warner Bros. is fast-tracking a movie starring Nightwing — the former Robin, Dick Grayson, who takes up his own mantle as a young adult — means there's an easy replacement if Bruce Wayne wants to retire for good.
Affleck's tweet congratulating Matt Reeves is below.
Justice League, the next movie starring Ben Affleck as Batman, will be released November 17.