The First Male American Girl Doll Is Historic... and Kinda Hot
Logan Everett has been stealing headlines and pre-pubescent hearts.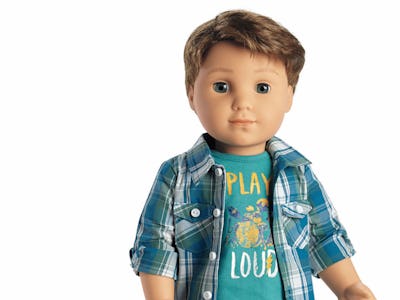 American Girl
Last week, history was made: The American Girl brand, which has only produced girl dolls for its entire 30-year existence, finally released a boy doll into its stores. And yes, in case you were wondering, he is a complete and total dreamboat. Ladies and gents, please meet Logan Everett, the sandy-haired Aryan dream boy who is sending shockwaves through the American Girl employee community.
In case you had a terrible childhood, we'll get you up to speed on what we're talking about. The Mattel-owned brand has been in business since 1986, producing plush dolls and books, each of which connected to a specific point in American history. There was Felicity the American Revolution girl, Addy the brave escaped slave, Kirsten the frontier girl, and so on. Each girl came with her own series of books, which both grounded them in their time period, and put them up against the same set of problems: crushes and thoughts that plague each and every nine-year-old girl. As the years wore on, more twentieth century, contemporary, and even customizable American Girls were introduced. But while there were sweet childhood boy crushes in the books, there was never a male doll before Logan.
So why now? According to American Girl Place employees in Los Angeles and former cast members in The American Girls Revue, it's incredible it didn't happen sooner.
"People have been asking for years," said one American Girl Place employee at The Grove mall in Los Angeles. "We have brothers of American Girl doll owners coming all the time and wanting someone who looks like them."
The issue of representation has been a hot one in the doll industry for years, but it usually goes the other way: There have been fights for female superhero action figures and the introduction of new Barbie body types just over the last few years. While the issue of male dolls being introduced into a primarily female line has been less of a hot-button issue, it seems like the brand and its customers have taken to him with a full heart.
"He's been selling like crazy," the American Girl employee added. "I'd be shocked if more boys aren't introduced soon."
So, why is now the time to introduce Logan into the American Girl fold? Granted, as far as introducing a male doll goes, they're not taking any exceptional risks: Logan Everett is a white, blonde-haired, blue-eyed, straight fourteen-year-old who lives in Tennessee and plays the drums. He is, however, the first of his kind — released alongside contemporary American Girl and Taylor Swift-adjacent character Tenney, who American Girl Place employees are insisting is not a love interest of Logan. They're just friends.
According to a former cast member of The American Girls Revue in Chicago, which ran from 1998 to 2008, Logan's introduction will be a boom for the brand in both publicity and in sales.
"It was fairly common to see little boys [at the musical] holding onto a Samantha or Molly doll, asking for our signatures," she explained. "Almost invariably, mothers would say, 'I really wish there were a boy doll.' American Girl really has a doll for everyone except, like, half the population."
Logan, however, has already garnered criticism from the Christian sector, with a North Carolina reverend declaring in an internal memo that the Logan doll is "KILLING THE MINDS OF MALE BABIES."
"This is nothing more than a trick of the enemy to (emasculate little boys) and confuse their role to become men," he told the Washington Post. Fortunately for Logan and Tenney, doll lovers and American Girl reps in general seem to feel the opposite.
"I think it's weird that it's been controversial, like little boys didn't already play with dolls or something," the former cast member laughed. "If your grasp on masculinity is so tenuous that you find a male doll threatening, I feel like you need to take a good, long look in the mirror."
Viva Logan!