Watch Eleanor Try to Rescue Herself in This 'Black Sails' Clip 
Eleanor is in trouble in this clip from Season 4, Episode 5.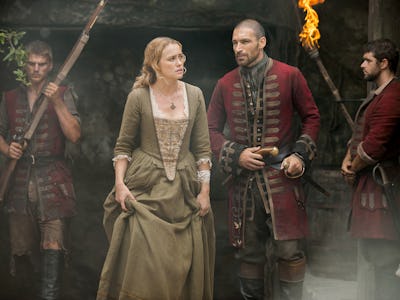 Starz
In the middle of the final season of Black Sails, Eleanor Guthrie finally found herself in a position that she can't talk her way out of — and it doesn't look like any help is coming this time. Sure, in Season 2, she seemed hopelessly screwed when Ned Low came into Nassau, beheading men in her tavern and sneering at her authority — but Charles Vane took care of that. It seemed her situation couldn't get worse at the beginning of last season either, as she sat in prison awaiting execution, but then Woodes Rogers took care of that for her. But by the fifth episode of Season 4, she's backed into a corner with only herself to rely on.
She's holed up in the fort as Nassau lies in chaos outside. If she takes one step outside, pirates will doubtlessly kill her. On the sea, her husband Woodes Rogers might be able to rescue her — but he's also kept her in the dark about his enthusiasm for keelhauling. Within the fort, she recently reunited with her old friend, James Flint, but they now stand on opposite sides of the war. Max, too, is an ally of sorts, but she's currently fed up with Eleanor for….kind of ruining her life. To put it bluntly, Eleanor is screwed.
All she has is her wits and her faithful maid Mrs. Hudson (played by Anna Louise-Plowman, who is married to Toby Stephens in real life). In this exclusive clip from Season 4, Episode 5, Eleanor and Mrs. Hudson concoct a plan.
Black Sails is currently airing on Sunday nights on Starz, and back seasons can also now be viewed on Hulu.