Hugh Jackman Swears He'll Never, Ever Play Wolverine Again
On his own terms, Hugh Jackman hangs up the role that made him a bona fide star.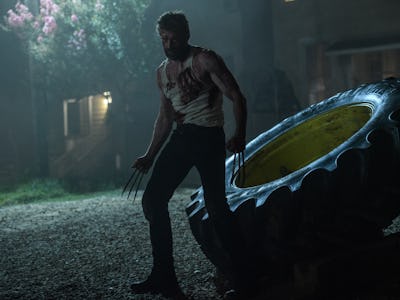 20th Century Fox
In case it hasn't hit you yet, Hugh Jackman is bowing out of his most synonymous character after 17 years. In James Mangold's Logan, Jackman portrays the mutant superhero Wolverine for one last time in a gritty, blood-soaked journey through the American southwest that marks an end of an era.
Before the spring of 2015, the Australian actor more or less said he believed the third solo Wolverine movie would be his last. It became official in March when Jackman posted on his Instagram page of his claws with the unambiguous caption: "WOLVERINE … ONE LAST TIME. HJ." Work was underway on X-Men: Apocalypse, in which Jackman had a cameo, so technically it was "two last times." But who wants to correct Weapon X?
A year later in 2016, Jackman appeared on The Dr. Oz Show where he spoke more candidly about the third Wolverine movie being his last. "It is my last time," he said. "It just felt like it was the right time to do it. And let's be honest: 17 years. I never thought in a million years it would last, so I'm so grateful to the fans for the opportunity of playing it. … It just feels like this is the perfect way to go out."
In the press tour leading up to the release of Logan, which hits theaters on March 3, Jackman expressed his debt to the character that solidified his career. "There is not a frame of this film where I can't say I didn't put everything into it," the actor told ET. "I couldn't have made this film if I didn't make the decision within myself that this was the last one. I just didn't compromise on anything. I was a pain to a lot of people, because I don't get another shot at this. This is a character I love. I owe my career to this character."
In a more recent story for The New York Times, Jackman expressed how even after 17 years, he felt he hadn't given the character his all. Whether it's the tone of the individual film or the direction his Wolverine — a centuries-old loner who has lived and fought through countless wars and traveled the world — was headed towards. "[T]here's been a gnawing turmoil that I hadn't really nailed it, fully — either story or performance or whatever," said Jackman. "Every film I've ever done, I've had that gnawing doubt. But I have it way less in this one."
When asked one more time if Jackman is done for good, he responded: "God knows how I'll feel in three years." However suspicious that sounded, he quickly added: "But right now, absolutely." So it's a sure bet he'll never wear those yellow tights.
Logan will be released March 3.