Hugh Jackman Almost Missed His Chance to Play Wolverine
A slew of better known actors had been given the chance at Wolverine. But only one would really become him.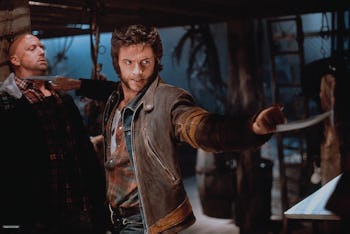 20th Century Fox
As Hugh Jackman retracts his claws for the final time as Wolverine in James Mangold's Logan, it's worth remembering how close the Australian actor came to not playing the most popular mutant in comic books.
Marvel tried to turn its popular X-Men comics into a movie as early as 1984. But after a decade and a half of starts and stops, things became more official at 20th Century Fox when in 1996, Bryan Singer, fresh off The Usual Suspects, jumped aboard the director's chair. Singer's first choice for Wolverine was Russell Crowe, who passed on the role after having just completed Gladiator and recommended it to a fellow Australian actor: 30-year-old Hugh Jackman. At the time, Jackman was mostly known for the London West End production of Oklahoma! and seemed hardly the type to play a berserk freak with adamantium claws.
The studio agreed, as did Singer, who wound up choosing Scottish actor Dougray Scott instead. Scott's star was on the rise in 1999 and had also signed up to play the villain in John Woo's Mission: Impossible II. The conflict forced Scott to opt out of X-Men, with Singer choosing Jackman a month after filming had already begun. And Jackman, by his own admission, sucked at the time.
Not only did Jackman accidentally study wolves to get into character, but starring in his first Hollywood movie gave the Wolverine the jitters. "I was kind of struggling, to be honest," Jackman told E! News in January. "I was nervous. I was average, to be honest, at best. No one was saying anything, and I sort of thought I was getting away with it — but I wasn't."
A sit-down chat with producer Tom Rothman hit Jackman hard in the gut. "He told me that he believed in me, that from the moment he'd seen my tape he had a gut feeling I was the guy, but watching my dailies was like watching someone put a lampshade over a light," Jackman said.
Watching Jackman's original audition for 2000's X-Men now, after 17 years of multiple movies and a solo spin-off trilogy that's ending with the vicious Logan, it's proof that nothing comes out of a vacuum. Jackman's subdued presence runs counter to Wolverine on the screen, who says so much more when he doesn't speak a word. But like a mutant metamorphosis, the evolution of the Wolverine was organic and had to grow over time.
The X-Men film series is far from the best one around; though Singer's X-Men paved the way for the next two decades of superhero movies, the series has lagged behind trends set in place by semi-rival Marvel Studios and its interconnected media franchise. But among the mutants who have come and gone at the X-Mansion, it's the one named Wolverine that has left a real claw mark in the hearts of comic book fans.
Logan will be released on March 3.