Hey DC, Neil Gaiman Has an Original Batman Story Ready To Go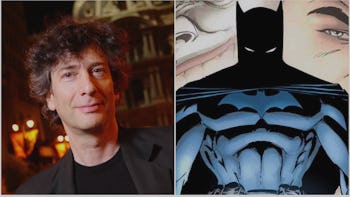 Andy Kubert, DC Comics
Neil Gaiman - best known for his works in pop-fantasy - is hinting at a Batman story the author has been waiting for over two decades to write. The author revealed on Twitter yesterday night that this mysterious Batman story of his might also come in the near future.
Gaiman is no stranger to the Batman universe, having written the 2009 story, Batman: Whatever Happened to the Caped Crusader, which follows the aftermath of Grant Morrison's Batman R.I.P. event about Batman's "death" in the series (Batman comes back). Gaiman's story focused on Batman's funeral which both his friends and family, as well as his enemies, attended to give their eulogies and their own personal recollection of how Batman died - with everyone giving different account about Batman's death.
Based on this Tweet however, it seems as though Gaiman has an original Batman idea, one that he's been dreaming up for almost 30 years now, that is coming together.
As a comic book author, Gaiman is most famous for his dark fantasy opus The Sandman which rebooted the classic but forgotten DC character of the same name and gave him a Gothic twist. Starring the character Dream, The Sandman is about the metaphysical embodiment of dreams who along with other such entities known as the "Endless", explore DC's supernatural and spiritual realms, including religious locations like Hell.
While The Sandman took place in the DC universe, including plenty of cameos from established DC characters like Swamp Thing, Constantine, Batman, and more, the series felt detached, eventually becoming Vertigo's main title. If Gaiman wrote an original Batman story, fans could probably expect a heavily literary story that will surely explore the supernatural side of Batman.
2017 has so far been a big year for Gaiman whose latest novel, a retelling of Nordic legends titled Norse Mythology, released this month. In addition, a Starz adaptation of his critically acclaimed novel, American Gods is set to premiere in April of this year. An original Batman comic run would just be icing atop a fine year for fans of Neil Gaiman and his personal brand of dark fantasy.