The Unlikely, Hardcore Robert Durst Fandom
I convened with some fellow Durst-heads at the alleged killer's hearing in L.A.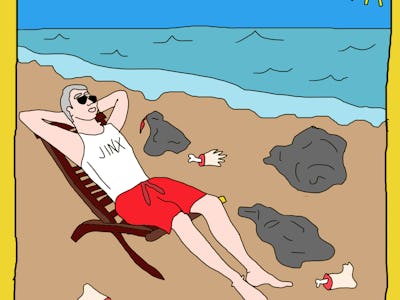 Jamie Loftus
I love Robert Durst. I have loved Robert Durst since I first saw his beady little lizard eyes with the rest of the world in early 2015 in The Jinx. That love has stayed strong since, including when he was arrested after the season finale of The Jinx and subsequently appeared in court in a neck brace and claimed all evidence from The Jinx was inadmissible because he was on meth when it was made. I've come close to getting a Durst-inspired tattoo of the word "Beverley" (spoiler alert: a smoking gun in the season finale), and have said I believe he is innocent in a speech at my best friend's wedding. At the risk of self-indulgence, it may or may not be true that I am one of Robert Durst's foremost fan artists.
Did Durst actually kill three people close to him over the course of several decades, something he seemed to have admitted in The Jinx when he said into a mirror, "I killed them all, of course?" For the sake of irony and this running joke, I'm going to continue to say no, he's definitely innocent, and give myself more room to maneuver throughout this piece.
It was this love that brought me to a Los Angeles courthouse last Wednesday morning, where Durst received a hearing related to the 1980s disappearance of his first wife Kathleen. I didn't get in after the courtroom was sealed due to a secret witness testifying — a witness who, in a twist that would shock no one, testified that Durst had been admitting to the murders of Kathie Durst and close friend Susan Berman within his circle for decades.
Those were the murders he's denied committing; he actually admitted to killing and dismembering his neighbor Morris Black in Galveston, Texas, back in 2003 but was acquitted after pleading self-defense.
While I was turned away at the door of the courthouse, I was not alone; several other Durst-heads were left hanging after not getting into the courtroom as well. It kind of resembled the queue for standing room at Hamilton, but this show was free, unpredictable, and slightly less grating.
One fan mentions that they purchased my Robert Durst 2017 fan calendar, the sales of which have been disturbingly brisk. She adds a very unnecessary detail, adding that the calendar hangs in the bathroom because that's where Durst made his big revelation in the finale of The Jinx. It's an amicable group of weirdos who have been taken in by the same obvious killer's charm and ostensible lack of remorse or giving a fuck. Eventually, the disappointed Durst-heads shrugged it off and scattered to work, assuring each other that the full Berman murder case scheduled for 2018 would be the better viewing experience, anyway.
So what makes Robert Durst, like, soooo unlike the other famous American serial killers? He's not a man of the working class, as are other notorious serial killers like John Wayne Gacy, Aileen Wuornos, and Jeffrey Dahmer, to name just a few. Durst is the son of a real estate magnate, a millionaire many times over, and has likely bought his way out of jail a number of times. We don't need to be afraid of Robert Durst because he only kills people he knows. Also, he's kind of cute, does things like live in a $300 a month apartment under the assumed identity of a mute woman, burps a lot, and does meth.
The public is fixated on serial killers, more out of morbid fascination than a security threat. What's captured the public's imagination is that they could have just as easily been our mailman, neighbor or, um, birthday party clown. The guilt that comes with exploiting certain true crime series is something viewers should take into consideration. Durst's story provides some guilt-free enjoyment: We can't relate to him, his background or his potential motivations to kill, but kinda sorta like him because he just doesn't seem to care.
It's been nearly two years since The Jinx first aired on HBO, and the Durst-heads are still coming out in full force. That's bad news for the state of American mental health, and great news for the state of my Robert Durst fan art business. See you in court next year, pal.