Outlander Season 3 Will Return in September 2017
'Outlander' Season 3 is officially returning in September with more time travel, zombies, and sex.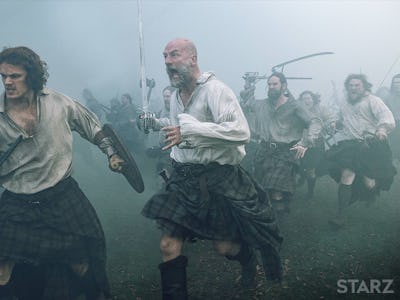 Starz
Starz officially announced when Outlander is coming back for Season 3: September 2017. Although the time travel element of the story fell into the background for much of the first two seasons, as they followed Claire's accumulation to daily life and marriage to Jamie Fraser in 1700's Scotland, Season 3 will see it return full force.
Season 2 ended with Jamie sending Claire back through the stones of Craigh na Dun to the 1940s in order to protect their unborn child from the ensuing deadly battle of Culloden. Season 3 will begin with Claire's tumultuous relationship with Frank in the '40s and '50s and Jamie's experience during the battle, all leading up to the moment in the Season 2 finale when Claire decides to go back through the stones once more.
Sam Heughan and Caitriona Balfe have also promised more sex in Season 3, as the sophomore season dialed it back to its own detriment. However, since the novel Voyager originally came out in the 1990s, some of its sexual politics are dated, and Season 3 has the difficult job of navigating the complicated waters of adaptation versus adherence to eyebrow-raising aspects of source material.
Perhaps most intriguingly, this next season will be more overtly supernatural than the previous two seasons, as it will feature pirates and voodoo zombies.
Starz hasn't announced a specific date yet, but expect Outlander Season 3 in September of this year.