DC Comics Native American Drama 'Scalped' Sounds Brutal AF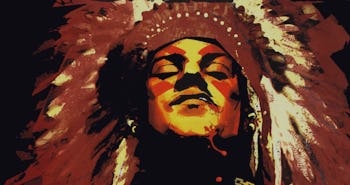 Vertigo Comics
DC TV shows aren't typically very violent, but a new project based on the award-winning comic series Scalped will change that.
WGN America recently announced that it had found the first member of its cast for Scalped, an upcoming show based on the Native American-centric comics series of the same name by DC's Vertigo imprint. Lily Gladstone, the breakout star of indie film Certain Women (co-starring Gladstone, Laura Dern, Michelle Williams, and Kristen Stewart), has been cast as the self-destructive Carol Red Crow, the estranged daughter of Chief Lincoln Red Crow of the Prairie Rose Indian Reservation in South Dakota.
Gladstone is Native American and grew up on a reservation for a period of time; her great-greatgrandfather was Red Crow. The news of her casting begins the process of bringing a majoritively Native American cast on for Scalped, an appropriate move due to the majority of characters in the comics being Native American.
While little is known about how closely the show will follow its source material, there is an official synopsis:
Scalped is described as a modern-day crime story set in the world of a Native American Indian reservation. It explores power, loyalty and spirituality in a community led by the ambitious chief Lincoln Red Crow, as he reckons with Dashiell Bad Horse who has returned home after years away from the reservation.
The Scalped comics, which ran for 60 issues from 2007 to 2012, are brutal, bloody, and raunchy. The characters swear up and down the panels. Red Crow scalps a man within the first ten pages of the first issue. He runs the reservations like a "medieval warlord," killing without hesitation and making money on prostitution and hard drugs. Bad Horse grew up on the reservation and has been sent in as an undercover agent by the FBI to bring Red Crow down. Oh, and he used to be in love with Carol when they were kids.
If the Scalped TV series stays at all similar to the comics, viewers are in for a bloody good time.
But the series also goes much deeper, focusing on themes of family, loyalty, acceptance, and love. For the first time, a DC TV show will give normal humans the chance to be heroes.
The pilot episode of the series was written by executive producer Doug Jung (Star Trek Beyond) and will be co-directed by Bilall Fallah and Adil El Arbi.
No release date has been announced yet for Scalped.