The Best Samurai Movies to Watch After Playing 'For Honor'
From 'Aragami' to Akira Kurosawa's work, defend your honor in these samurai movies.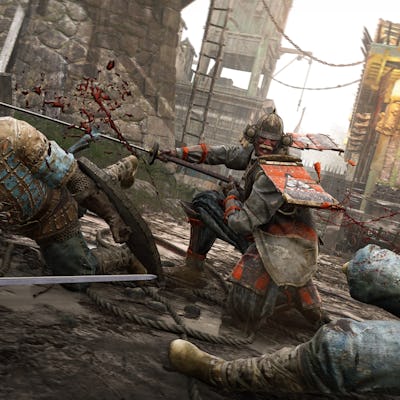 Ubisoft
The noble samurai is going to war. In Ubisoft's new hack-and-slash game For Honor, three of history's most fearsome warrior archetypes — samurai, Vikings, and medieval knights — engage in a triangle war for supremacy in a fictionalized medieval setting. While For Honor will test their combat mettle against each other, in movies, the samurai is the undisputed champion.
Serious players will explore every part to the mechanics of For Honor. But the rest of us are in it because, hey, it's samurai fighting Vikings. It's the exact kind of absurd "history" that fills up Renaissance Faires everywhere, and the inclusion of the samurai is something special. With all that in mind, here's a list of some of the most influential or just generally badass samurai movies to check out.
10. Aragami (2003)
Ryuhei Kitamura, director of the martial arts zombie film Versus and Godzilla: Final Wars, once had a challenge issued to him by fellow filmmaker Yukihiko Tsutsumi: Who can make the best movie with two actors, in one setting, in under one week? Kitamura's entry to the "Duel Project" was Aragami, a bizarre supernatural horror where a samurai discovers an isolated temple and must battle the legendary samurai Miyamoto Musashi, who lives as the immortal Aragami, the "god of battle."
9. Shogun Assassin (1980)
Shogun Assassin, the movie that inspired Quentin Tarantino to make Kill Bill, is the American version of the first two Lone Wolf and Cub movies spliced into one bloody adventure. "Directed" by Robert Houson, Shogun Assassin is about the former executioner of the Shogun who embarks on a path to revenge while taking care of his infant son. The film and its original source material has been a major influence in pop culture, evidenced in films like Road to Perdition, novels like Cormac McCarthy's The Road, and the final Wolverine movie, Logan.
8. 13 Assassins (2010)
Horror director Takashi Miike retained his signature macabre vision for his historical epic 13 Assassins, a remake of the 1963 movie from Eiichi Kudo. Bearing some resemblance to Akira Kurosawa's Seven Samurai (more on that later), an elder samurai hires 11 samurai plus a wandering hunter to overthrow a corrupt, abusive feudal lord. The deliberately slow pace of the film pays off in its epic 40-minute climactic battle.
7. The Blind Swordsman: Zatoichi (2003)
Novelist Kan Shimozawa created his most popular character in 1962's The Tale of Zatoichi, in which a blind samurai/masseuse becomes a hero. The film exploded into an entire franchise, and in 2003 was rebooted by "Beat" Takeshi Kitano in his critically acclaimed Zatoichi. A predecessor to blind heroes like Daredevil and Kenshi from Mortal Kombat, there's no better introduction to the blind swordsman than in one of Beat Takeshi's best films.
6. Bunraku (2011)
Staged like an elaborate play, the bombastic Bunraku — written and directed by Guy Moshe — is an overlooked genre mash-up combining Japanese theater with Western movie motifs. Japanese pop star Gackt stars as a sword-less samurai teaming up with a gun-less cowboy in a post-apocalyptic dystopia that strongly resembles the Old West.
5. The Sword of Doom (1966)
In Kihachi Okamoto's dark drama, Tatsuya Nakadai plays a wandering samurai whose violent existence begets a violent end. While Okamoto isn't the celebrated auteur on the level of his contemporary Akira Kurosawa, The Sword of Doom is a brilliantly made film about a terribly sad individual.
4. Kagemusha (1980)
Akira Kurosawa isn't just one of the most prolific directors of all time: He's also made the best samurai films you will ever see. Among his works, Kagemusha stands apart as a dreamy, lyrical vision of war that meditates on the nature of power. After a warlord dies, a peasant impersonates him only to be haunted by the warlord's spirit. Kagemusha was the third of Kurosawa's films shot in color, and it doesn't disappoint.
3. The Hidden Fortress (1958)
The Kurosawa film that inspired Star Wars is a classic that shouldn't be missed. Toshiro Mifune, Kurosawa's most prolific collaborator, is in full form as one of two peasants who escort a feudal princess through enemy territory. Come for the Star Wars influence, stay for the adventure.
2. Throne of Blood (1957)
Kurosawa wouldn't be a prolific storyteller without his own version of Shakespeare. Enter Throne of Blood, an eerie, fog-filled minimalistic horror adaptation of Macbeth that resets the Scottish play in the East with elements of Japanese Noh theater. A complimentary film to his 1952 contemporary drama Ikiru, Throne of Blood is an examination of the corrosive nature of power.
1. Seven Samurai (1954)
Arguably the single masterpiece of a master filmmaker, Akira Kurosawa's Seven Samurai isn't just a cool story about selfish samurai coming together for a common good. It's also a beautifully shot, beautifully executed piece of cinema that rightfully deserves its revered place in popular culture. The influence of Seven Samurai spans far and wide, with its spirit present in films like The Guns of Navarone, The Magnificent Seven, A Bug's Life, to even Marvel's Guardians of the Galaxy. Clocking it at just under four hours, Seven Samurai is a long, exhaustive journey you won't forget.