Border Agents Detained a NASA Scientist Until He Unlocked His Phone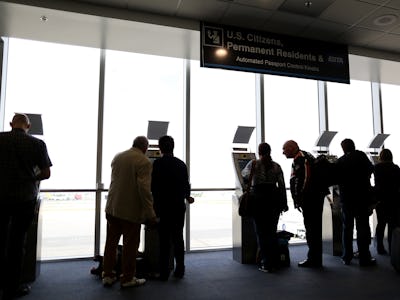 Getty Images / Joe Raedle
Two weeks ago, NASA engineer Sidd Bikkannavar flew back to the U.S. after a trip spent racing solar cars in Patagonia, South America. But, on his way home, he was detained by U.S. Customs and Border Protection after landing in George Bush Intercontinental Airport in Houston, Texas, on January 30.
After his passport was scanned, Bikkannavar, U.S. citizen and an employee of NASA's Jet Propulsion Laboratory (JPL), was held with others seemingly affected by Trump's executive order preventing travel from seven Muslim-majority countries, which a federal court has since refused to reinstate. The CBP agents would not release Bikkannavar until he unlocked his phone.
After the officer presented Bikkannavar with a document titled "Inspection of Electronic Devices" and asked him to turn in his phone, Bikkannavar initially refused. It's a JPL-issued phone, and he even showed the officers the JPL barcode on the back of the phone.
"I was cautiously telling him I wasn't allowed to give it out, because I didn't want to seem like I was not cooperating," Bikkannavar told The Verge. "I told him I'm not really allowed to give the passcode; I have to protect access. But he insisted they had the authority to search it."
He finally turned in his phone and the access PIN, and he was detained until the officers finished copying the data and returned it to him.
Bikkanavar is concerned that the search compromised the privacy of his contacts on his phone. Since then, JPL has been running forensics on the phone to investigate what data was taken or if the officers installed anything, and it issued Bikkannavar a new phone. Bikkannavar is currently working with JPL legal counsel.
NASA Public Affairs have not yet responded to inquiries about the incident yet.
CBP has the authority to search electronic devices at the border. However, it's illegal for officers to perform searches based solely on religion, race, national origin, gender, ethnicity, or political beliefs.
Bikkannavar left for South America on January 15, when Barack Obama was still president. He flew back from Santiago, Chile to the Houston three days after President Donald Trump's executive order was put in place. Since the ban, a federal judge said 100,000 visas had been revoked, although the State Department claims the number was closer to 60,000.
In January, the Council on American-Islamic Relations filed complaints against CBP for demanding Muslim American Citizens to turn in their social media information when returning to the U.S. Also, last week Homeland Security secretary John Kelly said visitors may be asked to give up passwords to their social media accounts.
Either way, Bikkanavar is not a citizen of any of the countries affected by Trump's travel ban. He is a natural born U.S. citizen and also enrolled in Global Entry, which allows people who went through background checks to have expedited entry into the U.S.
Bikkannavar has been stopped and searched before, but he has never been asked for his phone.
"Sometimes I get stopped and searched, but never anything like this," Bikkannavar told The Verge. "Maybe you could say it was one huge coincidence that this thing happens right at the travel ban."
Bikkanavar posted about his experience on Facebook. Trump's travel ban has also affected many others in the STEM community, including the Iranian-American scientists and students.