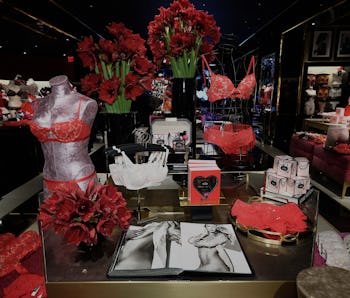 Culture
Pornhub Reveals What People Watch on Valentine's Day
Everyone's looking for a little romance.
Getty Images / Dimitrios Kambouris
Pornhub knows what people want on Valentine's Day. On Monday, the adult entertainment website released its insights for the holiday, including maps and user metrics that showcase Americans' porn interests and viewing habits on the day usually just chock full of chocolate and roses. After crunching the numbers, Pornhub found that the holiday has a noteworthy effect on the site's traffic and the top search terms.
According to past data, the traffic to the site drops off in the evening on Valentine's Day. After 6 p.m., Pornhub says, "Pornhub traffic drops as much as -17 percent … with the peak drop happening around 9 p.m." By the time midnight rolls around, the traffic rises but still remains below the average mark. The obvious conclusion to be drawn from this is that people have better things (read: people) to do on Valentine's Day than watch other people doing the deed which makes sense.
The website also broke down the traffic reduction by age group and state. They found that, for the most part, the younger the user demographic, the larger the drop. The youngest groups, ages 18-34, saw a 19 percent decline. For people aged 45-54, the drop was only 12 percent.
In the state-by-state map breakdown, Pornhub found large discrepancies. Site traffic from Nevada dropped by 22 percent, whereas traffic from Minnesota dropped by just two, which almost looks more like an aberration than some Valentine's shenanigans. Tellingly, the state numbers also fall in line with each state's relative level of urbanization. The states with the smallest traffic change are among the least urbanized in the country and generally fall around the fiftieth percentile or lower in terms of population density. The opposite can be said of the states with the largest drop off in traffic.
Over 90 percent of Nevada's population lives in cities. Compare that to around 40 percent of Vermont's. It could be that the discrepancies in the viewership drop off are due to fewer options for partners in more rural areas.
Moving on to the search terms themselves, the results are largely what one might expect. Searches using the term "Valentine's" rose 1,093 percent, which is by far the largest increase in the bunch. "Love" was the term that got the second most attention. It saw the next biggest increase among both men and women, with an aggregated rise of 269 percent. "Passionate" and "romance" were also among the most heavily searched terms, with 164 and 161 percent increases, respectively. Compare that to the country's usual porn interests.
The rest of the maps and data are available on Pornhub's insight page.