4 Film Advancements Honored at the 2017 Sci-Tech Awards
The Oscars are around the corner, but here's what you need to know about the Sci-Tech Awards.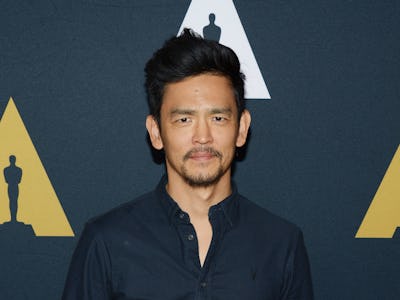 Getty Images / Matt Winkelmeyer
The Oscars for Scientific and Technical Awards had its ceremony on Saturday night, co-hosted by Leslie Mann and Star Trek's John Cho. Unlike its mainstream brother ceremony, which will be hosted by Jimmy Kimmel on Sunday February 26, it recognizes years of work and everyone who attends wins. Although the Sci-Tech awards are not as buzzed about, as Academy president Cheryl Boone Isaacs said, "There's a reason it's called the Academy of Arts and Sciences."
The award recipients are chosen by the Scientific and Technical Awards Committee. This year, thirty four people and five companies won, recognized for achievements like rendering and facial performance motion capture. Here are the dopest advancements you should know about.
1. Horse animation technology as seen in The Revenant
A team of designers and developers were recognized for animated horse design that has the glorious title of the Creature Effects Animatronic Horse Puppet. This apparatus, which has appeared in films like The Revenant and The Lone Ranger, simultaneously increases realism and actor safety. Mark Rappaport won an award for the concept, design, and development; Scott Oshita for the motion analysis and CAD design; Jeff Cruts for developing faux-hair finish techniques; and Todd Minobe was recognized for the character articulation and drive-train mechanisms.
2. Facial Performance Capture as seen in movies like The Hobbit
The company WETA digital was recognized for its FACETS facial performance capture system, which brings to life such characters as Gollum in Lord of Rings and Ceasar in Dawn of the Planet of the Apes. Luca Fascione, J.P. Lewis, and Iain Matthews won awards for this system, which is a leading innovator in facial tracking from actor-mounted cameras.
3. Drawing systems at Disney as seen in Moana
Brian Whited won an award for the Meander drawing system at Walt Disney Animation Studio, which is behind recent movies like Zootopia and Moana. Brian Whited's curve rendering system helps improve communication between the artists and engineers, resulting in a more fluid final product.
4. Advanced CGI as seen in Captain America: Civil War and Deadpool
Vladimir Koylazov, founder of the graphics house Chaos Group, received an award for the V-Ray, a ray-traced rendering technology that has enabled CGI to look more realistic and seamless in films like Doctor Strange and Deadpool.
See the complete list here. The main Oscars ceremony for the "arts" part of the Academy of Arts and Sciences 2017 will be on Sunday, February 26.