5 People Who Should Host the 2018 Oscars
The 2016 Oscars are approaching, but it's never too soon to plan next year's ceremony.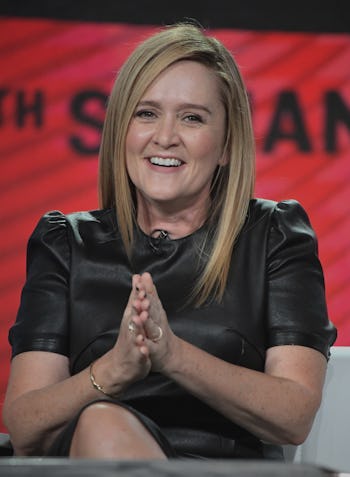 Getty Images / Charley Gallay
The 2017 Oscars are just around the corner, hosted by Jimmy Kimmel. Kimmel is to Oscar hosts what La La Land is to Best Picture. It's by no means a bad movie, but if it wins, it's the safe, unchallenging, crowd-pleasing choice. The Oscars tend to select a daring host every handful of years — and because 2016's Neil Patrick Harris was also in the vanilla category, 2018 is due for a shake-up. As it's never too early to start speculating about the future, here are five choices to master this long Hollywood ceremony in 2018.
1. Samantha Bee
Samantha Bee has been on fire lately, full of commentary that's hilarious, balls-to-the-wall bold, and unapologetically savage. On her TBS show, Full Frontal with Samantha Bee, she combines Jon Stewart's earnestness from the height of his Daily Show days, Stephen Colbert's savageness from his Colbert Report Days, and her own unique personality. Some could argue that she's too political — but in this unique era when a reality show star is in the White House, overlapping the political and entertainment spheres, Samantha Bee is the most appropriate choice. It's possible that Bee is more of a Golden Globes host, but if the Academy really wanted to make the ceremony fun, she's the one.
2. Patton Oswalt
Patton Oswalt would be a hybrid between a safe choice and a shake-up choice. He's been a working comedian for years, with stand-up specials and roles on shows like Agents of S.H.I.E.L.D. and movies like 21 Jump Street. His Twitter feed is often scathing, but his stand-up material tends towards the middle of the road. As a host, he would be the middle ground between Kimmel and Samantha Bee.
## 3. Franchesca Ramsey
Franchesca Ramsey is an actress and comedian who got her start as a YouTube star. She's a jack of all trades — she hosts a web series for MTV news, maintains two YouTube channels with millions of viewers, contributed to The Nightly Show with Larry Wilmore, has a large following, and mixes social commentary with her comedy. The risk would, of course, be that she is not mainstream famous, but if the Oscars wanted to try something different and acknowledge the rising relevance of Vloggers and YouTube stars, Ramsey would be an excellent choice to start with.
4. Kate McKinnon
Saturday Night Live's Kate McKinnon became a household name after the 2016 election cycle, with her political impressions of Hillary Clinton and Kellyanne Conway. She's also a bona fide mainstream star after her movie-stealing turn in Ghostbusters. She brings a kinetic, off-kilter energy and a strong commitment to every gig — but like Jimmy Kimmel and Neil Patrick Harris, there's something inherently crowd-pleasing about her.
## 5. Taika Waititi
Taika Waititi is a writer, actor, and director who most recently helmed the moving film The Hunt for the Wilderpeople. He also co-wrote and starred in the criminally underrated vampire mockumentary What We Do in the Shadows. Although both movies display his ample talents, they aren't widespread enough to warrant an Oscars hosting gig. But that will change by 2018, as he is also directing Thor: Ragnarok, which will be out in November. Not only will a big Marvel movie boost his name recognition, but he'll also be known as the guy who turned Thor around. The Thor movies are not topping anyone's "best of" lists for the Marvel Cinematic Universe — but his short teaser films have already caught the world's attention and signified a change for Thor.
The 2017 Oscars ceremony will air on February 26.