Why Anne Rice Is Still in Love with Lestat 40 Years Later
The 'Interview with the Vampire' author talks about her new 'Vampire Chronicles' show, the changing genre, and more.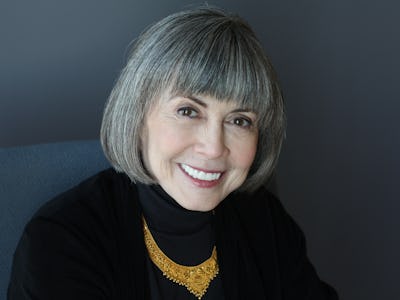 Michael Lionstar.
Today, we think of vampires as sexy Byronic figures accompanied by a heady aura of sex, tragedy, and mystery. But without Anne Rice, their fascinating human qualities would still lurk in the shadows. When Rice first published Interview with the Vampire in 1976, she singlehandedly transformed the age-old myth. Without Lestat, there would be no Angel or Spike, no Eric Northman or Edward Cullen, no Only Lovers Left Alive or Penny Dreadful. Bram Stoker might have given widespread life to the vampire myth, but their modern legacy belongs to Anne Rice.
Rice's Vampire Chronicles series has continued in the ensuring years, with over ten novels and several film adaptations, the most famous being Interview with the Vampire starring Brad Pitt and Tom Cruise. Her latest work is Prince Lestat and the Realms of Atlantis. Rice spoke to Inverse about how she's seen the genre change, what keeps her coming back, what she likes to read and watch in her spare time, and more.
The vampire genre has changed a great deal since you first wrote Interview with the Vampire. How have you seen it evolve during your career?
The concept of the vampire is rich and powerful, and I have been delighted to see so many authors unpacking that concept in so many different ways. I suspect we'll continue to see new and distinctive "vampire" novelists. I love seeing it go in the romantic direction, as I have always found vampires to be intensely romantic. Twilight made me think of Bronte's Jane Eyre in a way — the innocent young girl attracted to the powerful "dark" figure with whom she feels safe even though he is potentially menacing.
What's been the most surprising part of your own journey?
It's been 40 years since I published Interview with the Vampire, and I never dreamed that there would be a series of novels growing out of that experience or that Lestat would become the hero of that series. I'm marveling at how things have worked out. I love writing from Lestat's point of view, and I've been profoundly grateful for the reception to this latest novel, Prince Lestat and the Realms of Atlantis. I am at work on a new "Prince Lestat" novel which might make something of a "Prince Lestat" trilogy out of the reboot of the series that began with Prince Lestat in 2014. I never plan these things. I see them in retrospect.
What's been the most challenging part of following Lestat, on and off, for 40 years of your career? The most rewarding part?
It's been absolutely wonderful. Lestat is my soul, my hero, my inner self, my ideal self. I feel an intensity when writing about him that I get with no other character … almost. Lestat reflects my ups and downs, so I would have to say writing about him as defeated, despairing, miserable — that's the hardest challenge.
At various points in your career, you have left the supernatural genre and returned to it. What keeps you coming back?
Intensity. I get maximum intensity when writing in the supernatural genre. I get my point across. I touch my reality. It's near magical. I can't explain it rationally. I have written two purely "historical" novels. I found they were misunderstood and dismissed. They had the same philosophical and moral core as my supernatural work but people didn't look to them for deep meaning. They snubbed the genre.
You recently said that you chose Atlantis for your latest novel because it fascinates you. Are there any other myths and legends that fascinate you that you have not yet explored?
At the moment, I am writing more about Lestat and the survivors of Atlantis, so I have not thought too much about any particular myth as opposed to all myths. But I am indeed fascinated by mythology and religion and the idea of reading our historical mythology and religious ideas like the dreams of our culture.
What are some interesting novels you've read recently?
I like Daniel Silva's spy novels, and I like the work of Louise Penny and also Kristin Hannah's The Nightingale was terrific. And I keep going back to Dickens. I'm never too far from Great Expectations and David Copperfield. They are my fictional bible.
What have you been watching on TV or in films recently?
I admire a lot of what's being done in cable television. But I haven't seen anything recently that tops some of the films of the past. The Gift with Cate Blanchett is one of the finest of the films I've seen in recent years. In television I like the series that have to do with A.I, artificial intelligence … fine robots developing self consciousness and deep emotions.
What's next for you?
The biggest project on my horizon is an open ended television series based on my Vampire Chronicles which my son, Christopher Rice and I are developing now. We announced a few weeks ago that the theatrical rights to all the Lestat novels had come back to us, and that we would be doing this on our own —- preparing scripts for the first season and a detailed outline for at least five seasons. We're hard at work on all this and it's a joy. We've established a Facebook page for "The Vampire Chronicles." And we're welcoming input there from the readers. We want to be faithful to the books and the characters and the situations that the readers expect to see.
This interview has been edited for brevity and clarity.