Congressman Chaffetz's Science Illiteracy Exposed by Kid's Sick Burn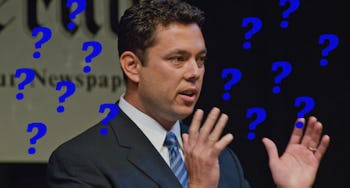 Wikimedia Commons/Flickr
On Thursday, about 1,500 people crammed into a town hall meeting hosted by Utah Congressman Jason Chaffetz. Chaffetz, who is also Chairman of the House Oversight Committee, was previously in the national spotlight for his probes against Planned Parenthood and Hillary Clinton. He's on center stage again after a 10-year-old named Hannah Bradshaw called him out on his indifference to the environmental issues plaguing his state.
Bradshaw took the microphone and demanded — after a whispered "You got it, girl" from the crowd — that Chaffetz share his thoughts on science and environmental concerns. "What are you doing to protect our water and air for our generations, and my kid's generations?" Bradshaw asked, to thunderous applause. "Do you believe in science? Because I do."
In this moment, Chaffetz's ignorance of the scale and breadth of Utah's environmental concerns was revealed. We still don't know what Chaffetz is doing to protect the water and air of Utah — or even if he believes in science — because he didn't answer her questions. Chaffetz commended the "guts" it took to ask her question and proceeded to both skirt around it and simultaneously turn it into a partisan issue by saying "We need good people on both sides of the aisle." Later, he acknowledged that Salt Lake Valley had a "major problem" and admitted, "I don't presume to have the answers to all of the questions, okay?"
But Chaffetz's voting record suggests he does not care to find out how to protect Utah's water and air. He has voted to bar the Environmental Protection Agency from regulating greenhouse gasses, to exclude greenhouse gasses from the Clean Air Act, and to enforce limits on global warming pollution from carbon dioxide within the Clean Air Act.
These are actions from a congressman whose state has some of the worst air pollution in the country. Two Utah counties, one within Chaffetz's district, are included in the American Lung Association's list of the top ten counties polluted by short-term particles. In 2016, Salt Lake City had days where concentrates of 70 micrograms of particles per cubic meter were in the air. The "acceptable" level, according to the American Lung Association, is 35 micrograms per cubic meter. Dr. Brian Moench, the head of Utah Physicians for a Healthy Environment, told the New York Times in 2013 that the levels of Utah air pollution are so dangerous for pregnant women that the effect of breathing it is like smoking cigarettes.
Seeing that 10-year-old Bradshaw's concerns about Utah air quality were echoed by many in the room, Chaffetz tried to save face, attempting to defend himself by saying, "You may have a different approach to dealing with that than I do," he said.
It appears his approach is to do nothing: Chaffetz has not proposed any other plan for dealing with pollution, and he is not a part of the state's bipartisan Clear Air Caucus, an organization within which other Utah representatives have proposed plans such as funding alternative fuel vehicles, testing for diesel vehicle emission, and funding further research on air quality. To be fair, though, he's probably been pretty busy — figuring out how to terminate the Department of Education altogether undoubtedly takes some work.