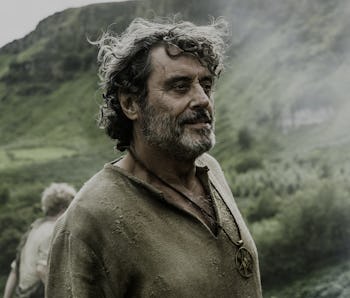 Entertainment
Ian McShane Says Theon Has the Most Slappable Face on 'GoT'
HBO 
Ian McShane, who had a single-episode role in Game of Thrones Season 6, notoriously once called the show "tits and dragons." While speaking to Collider during his press tour for John Wick 2, the actor revealed who he wanted to slap on Game of Thrones, and he spilled some details about Starz's upcoming project American Gods.
After referring to Theon actor Alfie Allen as having "the most slappable face," he reflected on what his character's death meant for The Hound's plotline. The Hound, "maybe learned something from this encounter," McShane said. "You know damn well he's going to go off and murder everyone who murdered Ray but maybe after that he'll have a few sort of qualms."
About American Gods, McShane said, "Bryan [Fuller] and Michael [Green] the first sort of four episodes they weren't sure how to end it, but now they found out… It's a difficult line because it is reality but it's not – it's heightened reality. It's difficult to find the tone, but I think we found it. It's unlike anything else. There's animation in it, there's a lot of special effects. I can't wait to see it with all the bells and whistles on it."
American Gods premieres in April on Starz. Game of Thrones returns on HBO in summer 2017.