Netflix's 'Death Note' is Almost Finished and Ready to Air in 2018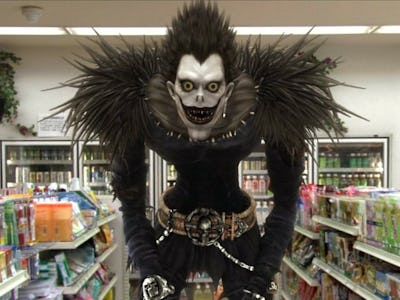 Screen Rant
Netflix's long-awaited live-action Death Note is in the final stages of editing, according to director Adam Wingard. The highly anticipated project is Netflix's hard-won adaptation of the Japanese horror manga of the same name by Tsugumi Ohba.
The genre mashup movie has been in production for an extended period of time due to Wingard's attachment to other projects, including the failed sequel Blair Witch, The Guest, and various TV shows. Several big name studios scrambled for the adaptation after Warner Bros., which was initially interested in Death Note, dropped it. Ultimately, the streaming giant snatched it up.
"Coming up is Death Note, which I'm just now finishing the editing on," Wingard said. "For me, I need a little breather time because the last few films I've done have been all stacked up on top of each other. I went from The Guest to that TV pilot for Outcast and then went right into the Blair Witch with complete overlap. I did a writers room on this other project and then went straight into Death Note."
Wingard's partner in Blair Witch crime, writer Simon Barrett, said that Wingard is "exhausted," and that they have "four feature films" currently underway. But Death Note is expected sometime in 2018.
Death Note will star Nat Wolff (Paper Towns, The Intern) as Light Turner (Light Yagami in the original comics), a young man who gains control of a supernatural notebook, the "Death Note," that kills anyone whose name is written inside with intent. He goes power hungry and begins to kill anyone who he deems "unworthy" of life. Enter: Ryuk (voiced by Willem Dafoe), the demonic original owner of the Death Note, with a sick sense of humor and zero fucks to give. Ryuk is so amused by Light's "I'm a god" fever dream that he ends up following the young man around. Death ensues.
No exact date has been set yet for Death Note's release on Netflix.