Wolverine Uses a Very Old Name in This New 'Logan' Clip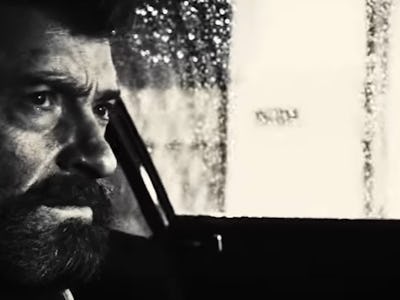 20th Century Fox/Youtube
A new publicity clip for the upcoming Logan movie has Wolverine using his given name from 19th Century Canada: James Howlett.
Presented in a high-contrast black-and-white, we see Hugh Jackman's beleaguered Logan driving a limo with flashing images of screeching girls and drunken boys in ill-fitting tuxes in the expansive back seats. The video is silent except for a message left by Logan for a person named "Mr. Esperanza." Supposedly, Logan wants the Sunseeker (for a low-ball $60,000 in cash) as a "retirement gift" for his dad.
Turns out a Sunseeker is a kind of boat. Obviously, the assumption here is that the boat would be for Charles Xavier. Was Logan's plan to, at one point, buy a boat in Mexico and drive off into the sunset with Professor X at his side?
"This is James Howlett," Logan says in a grainy voicemail to Esperanza. He sounds dejected and exhausted. This is a man who's been pushed to the edge, one who's not sleeping at night. "I'm calling about a '96 Sunseeker you have listed in the Penny Saver from last week… It says it needs repairs, but, well, I was wondering if you were willing to part with it for an even $60K?"
Perhaps the most meaningful shot is of Logan allowing tears to roll down his cheeks as an older couple and a young girl sit in the back seat of his limo. Rain mimics his tears on the window and the streets are empty. It would appear he never drives customers during the day, which can't be good for his health or the kind of clients he attracts.
The clip, as short as it is, is revealing of Logan's desperation. He's working a mindless, thankless job and willing to spend tens of thousands of dollars to get Xavier somewhere safe. Logan has been marketed as the most gut-wrenching of the X-Men franchise, and the Sunseeker video is perhaps the starkest example of that so far.
Witness Logan's desperation and, maybe, a giant, $60,000 boat when Logan premieres March 3.