Lego Goes Kung Fu With First 'Ninjago' Movie Trailer
"Oh I'll be waiting ... dad."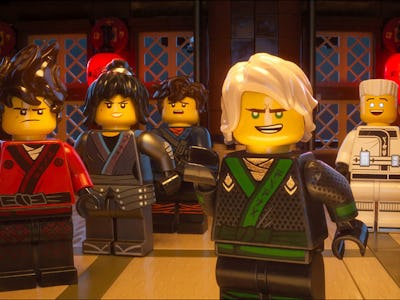 ComingSoon.net
There's some bad blood in the first trailer for Lego's next feature-length film, The Lego Ninjago Movie. This time around, Lego's ever-expanding empire takes viewers to Ninjago City where an aging kung fu expert, Master Wu (Jackie Chan), recruits a group of teenagers to become the night-time ninja defenders of the city. The Big Bad threat is the evil Garmadon (Justin Theroux) … who just so happens to be the father of the lead ninja defender, Lloyd (Dave Franco) — pronounced "luh-lloyd" (two Ls) for kicks, but mainly for comedic paternal apathy. Oh, and all of the teenage kung fu warriors get giant robots to pilot, too. Yep. There's a lot goin' on here.
What we ultimately get is a delightful mash-up of ninja-focused Power Rangers, Zords and all, packaged with classic Lego humor and the fatherly villain trope popularized by Star Wars. "L-loyd" is joined by five of his friends: Jay (Kumail Nanjiani), Kai (Michael Peña), Cole (Fred Armisen), Zane (Zach Woods), and Nya (Abbi Jacobson), so yeah, this one is stacked with comedic talent. Check out the trailer below:
The kung fu action courtesy of the Secret Ninja Force features some great animation, and on top of those action sequences is the spectacle of giant, silly robots lounging back in building-sized reclining chairs after a hard day's working kicking ass against invaders.
The Lego Ninjago Movie hits theaters this September.