Sorry, Rep. Don Beyer Only Has One 'Keep the EPA Great' Hat
Trump is new, but this committee is not.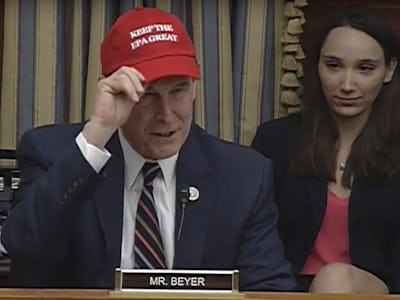 YouTube
Fashion has alway been political, and on Tuesday, politics approached something resembling fashion.
During the House Committee on Science, Space, and Technology's hearing, "Making EPA Great Again," Virginia Democrat Don Beyer sported a red cap emblazoned with the message, "Keep the EPA Great." It was a headwear choice that caught both the attention of the hill and the internet.
"We were in a meeting with him yesterday getting ready for the hearing. The idea for the hat was his, to turn the silly slogan around," says Beyer's press secretary Aaron Fritschner. It was a really ridiculous title. Trump is new, but this committee is not. Congressman Beyer has been on the committee for two years and was looking for ways to get the word out."
Fortunately for Beyer, a customized hat could be made in time for the meeting. Unfortunately for everyone else, only one was made.
Representative Lamar Smith, a Republican from San Antonio, was the person who titled the meeting undoubtedly as an ode to Donald Trump's campaign slogan "Make America Great Again" which has now become a calling cry for his supporters. The hearing was intended to discuss the Environmental Protection Agency's policies, with many GOP politicians including Smith questioning the legitimacy of climate change and with plans to change how the agency is run. Meanwhile, those on the other side of the battle including Representative Eddie Bernice Johnson, a Dallas Democrat, and Beyer advocated for the EPA's work so far in combating climate change.
And why there may only be one of these "Keep the EPA Great" hats made so far, it definitely did its job bringing the spotlight to the committee hearing and those like Johnson and Beyer trying to protect the agency now that Trump, who has called the threat of climate change a "hoax."
Beyer looked pretty good listing the improvements the EPA's work has lead to so far.
It looks like Congressman Earl Blumenauer is on the waiting list for the merch.
Beyer has also taken the co-opted slogan to his Facebook page.
For those interested, the entire committee meeting is available to watch on YouTube.
The meeting was the first since Trump started as president. It's unclear if Beyer will be bringing the hat to all EPA-related events going forward.
We'll update you if his office decides to make more.