5 Games to Play Like 'Fire Emblem Heroes'
The world of 'Fire Emblem' isn't the only one out there.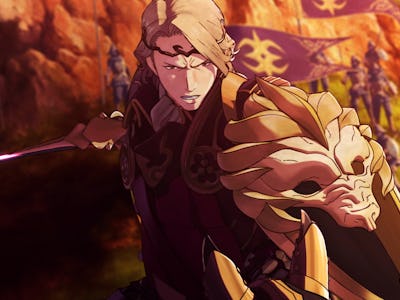 Nintendo
The second complete mobile game from Nintendo, Fire Emblem Heroes, recently released on iOS and Android. Thanks to a much simplified interface and tutorial, Heroes serves as an accessible strategic role-playing game built from the various bits of the Fire Emblem universe. Players recruit and train heroes, train them up, and take on enemies. There's a bit of random chance involved in Heroes however, bringing the gacha element into the experience. And there are more games like Fire Emblem Heroes out there if you're keen on the experience.
Once you've collected a few sets of heroes, or if Fire Emblem Heroes doesn't quite pull you in for the long haul, here's some similar titles available for mobile devices that you can explore.
Final Fantasy Brave Exvius
Available on both iOS and Android devices, Final Fantasy Brave Exvius is a free-to-play game which brings many of the RPG elements from the Final Fantasy series to your mobile device. Set in a world balanced by the powerful forces of Vision and Lapis, players take on the role of a brave warrior who stands up to the darkness as the power of Lapis begins to fall to its own destruction. Brave Exvius revolves around building parties of characters that players then take into dungeons to fight through various stages leading up to a boss fight. Doing so will yield items, equipment, and skills which you can use to further increase your character's power, thus being able to take on more difficult challenges.
Summoners War
Originally released a few years ago, Summoners War has players take on the role of a summoner who can open scrolls to gain control over powerful monsters to use in battle. Like the different characters found in Fire Emblem Heroes, these monsters are graded on a scale of 1 to 6 and come with a set of stats which can be upgraded in-game with runes. Combat takes place in a turn-based scenario which allows you to take advantage of your monsters' abilities, which can be leveled up by fighting through the game's various dungeons and challenges.
Puzzle & Dragons
Instead of opting to go straight for turn-based combat like the other mobile titles on this list, Puzzles & Dragons is built around puzzle-based mechanics with certain elements of role-playing and strategy titles combined into the formula. While playing through the game's available dungeons, you'll be solving puzzles by matching tiles to increase the strength of your monsters' attacks. Chaining together successful tile matches increases your monsters' damage and allows addition ones from your team to attack. Successful battles allow you to collect and evolve monsters from the game's collection of 2,000 plus, building up your team for more challenging dungeons which are regularly added to the game.
Phantom of the Kill
Even though it may be difficult to get into at first, Phantom of the Kill is a game that only gets better with time. Set in a post-apocalyptic Japan, players take control of powerful humans who can defeat the demons pushing them to extinction. Like Fire Emblem, Phantom of the Kill is a game centered around strategic movement on a chessboard-like playing field where units all mesh into a weapon triangle. Complete with a set of support bonuses and collectible characters, it's a title worth trying out if you're looking for more strategic gameplay.
Final Fantasy Record Keeper
Similar to 'Final Fantasy Brave Exvius, Final Fantasy Record Keeper is a mobile title set in the various worlds of the Final Fantasy universe. Instead of remaining largely disconnected, however, Record Keeper lets players relive many of the epic battles and scenarios from nearly every installment of the franchise. Players take on the role of Tyro and are tasked with delving through dungeons associated with each Final Fantasy game. What's great about building parties in Record Keeper is that players are able to recruit many fan-favorite characters to aid them, such as Cloud and Sephiroth from Final Fantasy VII, each with their own abilities and stats. Unlike Fire Emblem Heroes* though, you'll have to complete turn-based battles one after another, making tactical decisions in combat all the more valuable.