All the Movie Trailers From Super Bowl LI
Who cares about the Patriots vs. the Falcons. What about the Autobots vs. the Decepticons?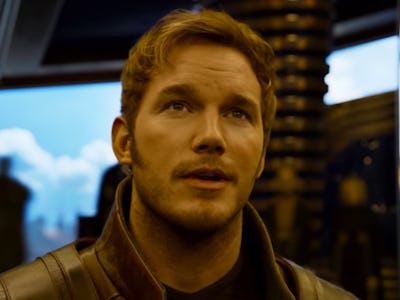 The New England Patriots might have won the Super Bowl fair and square, but the real winners of this whole thing are the movie fans out there. While this year's game was highly entertaining, the best thing about it was the handful of movie trailers teasing summer blockbusters for 2017. These 30-second snippets preview what are some of the most anticipated cinematic arrivals of the year. There are trailers for the Transformers: The Last Knight, Ghost in the Shell, Guardians of the Galaxy Vol. 2, and more.
For your viewing pleasure, here's our rundown of all the movie trailers that aired during Super Bowl LI this year.
Transformers: The Last Knight — June 23
It's hard to believe there are five of these movies. If someone could succinctly tell the plot of the first four Transformers films — all lovingly directed by overblown action auteur Michael Bay — we'll give you a medal. Since 2014's Age of Extinction made over $1 billion dollars worldwide, the continuing adventures of the Autobots against the Decepticons continues.
Judging by the trailer, there isn't a lack of Bayhem going on. This time around, humans and Transformers are at war, and the key to peace potentially lies in Arthurian legend for some reason. Also, Bumblebee and Optimus Prime beat the ever-loving crap out of each other.
Ghost in the Shell — March 31
Like a mix of Blade Runner and The Matrix, Ghost in the Shell is hitting theaters this spring to totally mess with our heads. But that isn't necessarily a bad thing. Adapted by the beloved manga and anime film of the same name, the film stars Scarlett Johansson as the Major, a cyborg counter-cyberterrorist commando whose job is to thwart hackers doing their worst in a hyper-stylized 2029. Once she infiltrates the hacker group, she gets more than her circuits bargained for. This will be a gamble to see whether big budget anime adaptations can work.
The Fate of the Furious — April 14
We complained about how many Transformers movies there are, but we can't raise a stink about this ridiculously titled eighth entry in the improbably great Fast franchise. This time, main car dude Dom Toretto (Vin Diesel) is somehow brainwashed by a villainous character played by Charlize Theron into betraying his team — nay — his family. Despite the Terminator 2 bad-guy-good-guy switcheroo, the plot doesnt really matter. You know there will be cars, explosions, loud music, and a whole lot of fun.
Life — March 24
What will Ryan Reynolds do now that he turned the world upside down with Deadpool? The answer is, weirdly enough, Life. This sci-fi thriller, co-starring Jake Gyllenhaal and Rebecca Ferguson, is about an ISS crew who discovers alien lifeforms. It looks to be a razor sharp genre exercise somewhere between Sunshine meets Gravity and Alien. Plus, Reynolds isn't the only Deadpool alum to join up. Life was also written by Deadpool screenwriters Rhett Reese and Paul Wernick. We don't think there will be pegging jokes in this one though.
Baywatch — May 26
We can't say we ever thought we needed a 21 Jump Street-esque meta-spoof on ridiculous 1990s daytime TV classic Baywatch, but since it stars Dwayne Johnson, we're behind this 100 percent. The Rock can make with the action in the Fast movies, but the dude has enough versatility to be a comedic kingpin as well. There was no honest way to do a faithful adaptation of the overblown action drama of the TV series, so hopefully, the movie perfectly deconstructs the cheesiness.
Logan — March 3
With 17 years and eight X-Men movies under his belt, Hugh Jackman has something of a swan song as Wolverine in Logan. Everyone's favorite adamantium-advantaged mutant is going out with a hard R-rating. Based on fan-favorite Old Man Logan by Mark Millar and artist Steve McNiven, Logan sees the X-Man in 2024 dealing with a dwindling mutant population. He hides away an aging Professor X and must go on a journey to help out a mysterious young mutant named Laura who might be Wolverine's clone.
Guardians of the Galaxy Vol. 2 — May 5
We're hooked on a feeling, and that feeling is utter excitement for the second volume of director James Gunn's Guardians of the Galaxy movies. Plot details are being kept under wraps, but this time around the galactic mayhem will allegedly involve figuring out who Star Lord's father is. It's going to be tough to follow up one of the best films in the Marvel Cinematic Universe, but if this trailer is any indication it's going to be more of the same, which isn't a bad thing. Plus, there's Baby Groot.
Pirates of the Caribbean: Dead Men Tell No Tales — May 26
Much like the Transformers series, there is a mind-boggling number of Pirates of the Caribbean movies. It seems people aren't willing to give up Johnny Depp's Jack Sparrow schtick quite yet as Dead Men Tell No Tales is set to hit theaters this year to kick off the summer blockbuster season. The previous installment of the ongoing adventures of Depp's swashbuckling Keith Richards caricature, On Stranger Tides, racked up over a billion dollars at the worldwide box office when it was released in 2011. Depp may be back, but we're into Tell No Tales because of Javier Bardem as the villainous Capitán Salazar. Any time Bardem is your bad guy, you best pay attention.
A Cure for Wellness — February 17
If you thought multi-million dollar Super Bowl spots were reserved only for the biggest blockbusters, youd be wrong. A Cure For Wellness is the modestly budgeted new horror film from director Gore Verbinski, whom you might remember either as the hero who pulled off making the first Pirates of the Caribbean movie incredible, or the fool who thought The Lone Ranger needed to be remade in 2013. Either way, A Cure For Wellness is a resetting of sorts. Now a few years removed from the Lone Ranger flop, Verbinski is returning to the spooky roots of his American remake of The Ring, which catapulted him into being a big time studio director after that movie was a massive hit in 2002. Here's hoping this one turns out well.
John Wick: Chapter 2 — February 10
If you think the Super Bowl is intense, just wait a week until the second installment of the continuing adventures of assassin extraordinaire John Wick for some high impact experiences. Though Chapter 2 is going to be a balls-to-the-wall action movie, this trailer promises something a bit more … sensual. Fifty Shades Darker this ain't.