Adam Savage Mods a Nerf Sniper Rifle Into a Zombie Killer
Watch him turn a toy into a high-powered dart launcher.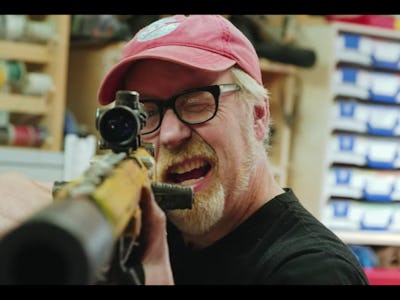 Youtube/ Tested
It's a grand tradition of disappointment. Since 1989, excited kids have unboxed Nerf blasters, loaded up foam darts, balls, and arrows, and declared war on their friends. With blasters loaded, they march onto the backyard battlefield, squeeze the trigger, and unleash storms of foam. But almost without fail, the harmless ordnance curves around its target, missing completely. Such was the disappointment of Nerf wars. Fortunately, in recent years, these kids have come of age and begun modifying Nerf weapons to turn them into effective toys of war. With upgraded components, Nerf fans have pushed the limits of their blasters, increasing velocity and accuracy to unprecedented degrees.
In a new edition of Adam Savage's One Day Builds, the nerd king becomes a part of this tradition, showing how he's modified a Nerf Longstrike to increase its effectiveness and badassery. As a gift for Imgur's Secret Santa gift exchange, Savage beefed up the internal components of the Nerf rifle to enhance its accuracy and gave it a battle-worn cosmetic makeover to help the toy gun look less like, well, a toy.
Using a kit from Mod Works, Savage upgraded the functional components of the Nerf rifle. This kit, which retails for $59, includes two upgraded springs and upgraded internal parts. The mod kit increases the stiffness of the gun's main spring and expands the volume of air in the blaster's chamber, which translates to a much higher muzzle velocity, and in turn, accuracy. With a heavier spring comes increased shock, so the kit's components help dissipate the stress of the 5 kg or 7 kg spring and help ensure that the greater volume of compressed air will stay sealed in the chamber before firing. Modders can choose between the lighter spring for easier priming or the heavier spring for maximum velocity.
Modded Nerf blasters have become popular in recent years, especially among the Zombie LARP crowd. In these massive live-action role-playing games, players place the utmost importance on accurate and powerful weapons to take down their undead opponents.
With his meticulous Nerf gun mod, which also includes a functional scope and a sniper bipod, Adam Savage taps into the Nerf modding trend, bringing this niche hobby a little closer to the mainstream.