NFL's Golden Tate and Joey Bosa Talk 'Call of Duty' and More
We chat with two NFL players about our favorite hobby.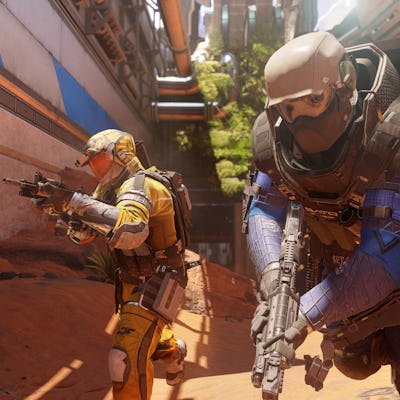 Activision
Video game enthusiasts come in all forms, including professional football players. As excitement for the Super Bowl builds, the L.A. Chargers' Joey Bosa and Detroit Lions' Golden Tate convened in Houston to prepare for the big day and play some Call of Duty. The duo recently teamed up with YouTuber Hike the Gamer to try out the new Infinite Warfare DLC, Sabotage. After they finished, Inverse spoke with both Tate and Bosa on the phone about their love of Call of Duty and gaming in general.
How did you get into video games?
Golden: Actually, Call of Duty. I remember the first time I ever played it. We went on a baseball trip in college, and we stayed with host families. One guy ended up turning Call of Duty on, and I watched it for a little bit. And then I tried it out. I got killed a lot, but I was like, "Oh, this is fun!" because I loved the multiplayer space. Once I got back to college, I used my Pell Grant check and got Call of Duty and started playing it.
It's a good way to come home and unwind after a harsh day on my body. I get to go home and sit down in the man cave and play Call of Duty with some of my teammates. That's what gets me through the season.
Joey: I've been playing video games my entire life, ever since I had the Nintendo 64 that my grandma got me. Then I got my PS2 and have just been moving onto playing Call of Duty, and I've been a big gamer all of my life, me and my friends. It's been a big part of our after-school time hanging out. It's kept us off the streets and out of trouble.
Do you mostly play with your teammates?
Golden: On PlayStation, I play with Eric Ebron, Andre Roberts, Theo Riddick, and then on Xbox, that's more of the Seattle crew. I'll play with Richard Sherman and a few other guys — Marshawn Lynch — we always group-up and play.
Joey: Of course. But really when I connect with my friends back home when I come home every day, it's kind of like a ritual. We all get on our three- or four-way call and we play Rocket League, we play Call of Duty, we play FIFA, whatever. It's just a couple of hours we get to connect with me and my friends from back home.
Are you familiar with competitive Call of Duty?
Joey: Playing Rocket League and Call of Duty, I do tend to go on YouTube and watch some YouTubers play and stuff like that. I definitely understand the gaming community and what's out there just from watching YouTube and all of that. It's a huge community. It sometimes discourages me watching these players.
Golden: I actually — either a year ago or two years ago — I went to the Call of Duty Championships in L.A. and had a blast. I love that they have that available now and I think it's another way to get our kids involved and another way to get our kids in school. I hear they have scholarships now. (Ed. note: There definitely are esports scholarships.) So I think that's awesome. It's unfair for me to play against them, though. I'll tell you that.
How was your World Championships experience?
Golden: It's almost like they built up something on top of a parking garage outside, and it was real official. You walked in and it was just Call of Duty statues everywhere and shirts and gear with team names, and that's when I learned about the different types of controllers. They had like a stage and they had someone MCing it. I actually went with one of my good buddies, Demaryius Thomas, and he played on the opposite team. I'm way better than him, just for your information. But just overall, it was fun. We had a blast. I wish we could've stayed and competed with them, but I loved it.
Are there any comparisons you can draw between competitive video games and football?
Joey: I mean, really, [it's comparable to] competitive anything when you're working as a team. When the guys are talking to each other, they're always communicating. All the teamwork that goes into it is really the same as football. It's important to communicate and work together, and you definitely see it in Call of Duty as well.
Recently a lot of pro athletes have actually been buying Call of Duty teams. I know Rick Fox has one, and I actually was talking to Rodger Saffold about his Call of Duty team. Could you see yourself following in their footsteps and maybe adopting your own?
Golden: It's definitely something I'll look into. I haven't learned enough about it to make a decision, but one of my good buddies, Reggie Bush, is also talking about doing something similar. So I'm sure we'll team up and talk about it and see what we can do. I'm a gamer, so I love being a part of it and being in the space. So maybe it's definitely something we can work out.
What's your favorite thing about the gaming community and being a part of that?
Golden: Everybody has something in common — some more than others — but at the very least, either you're an Xbox guy or girl or PlayStation guy or girl. So obviously, that's one thing we have in common, and then within that, you could say you're connected to the games, and if you have the same game in common then you can talk about the details of it. So it's also another way just to connect with people and build relationships that sometimes can be lifelong relationships. If I look back at my friends, all of my best friends are the ones I have stuff in common with, so it's just another way [to get to that].
This interview has been edited for brevity and clarity.