From the NFL to Call of Duty World League
Rodger Saffold is driven by a genuine love for video games and strong team dynamics.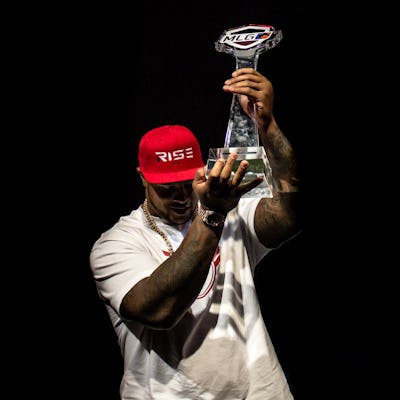 Eric 'Dids" Baes
There's money to be made in esports, and that's quickly catching on as high-profile athletes and others buy teams and invest in esports organizations. It's a smart, forward-thinking strategy, but figures like Shaquille O'Neal and Rick Fox aren't the first to dive in. Current LA Rams offensive guard Rodger Saffold co-founded his team, Rise Nation, in 2014 alongside long-time friend Khareem Horsley out of a mutual, genuine passion for competitive Call of Duty.
Saffold surrounded himself with games early in life, playing classic titles like Star Fox, GoldenEye 007, and the Legend of Zelda throughout his childhood before developing something of an obsession with Call of Duty in college. His ventures into competitive gaming evolved organically from there.
"It kind of found me," Saffold told Inverse at the MLG Vegas tournament this past December. "I was getting more involved with Twitch. I was streaming content online, and I started to venture out and look at other games. Next thing you know, I was chatting about it with fans and when they asked us, 'Why don't you guys make your own team?' Me and Khareem, we decided to build this from the ground up."
Things took off quickly after that. With the help of industry connections, Horsley and Saffold established a team that, within a year, would qualify for the Call of Duty championships.
"With the help of some guys that work at the Rams, and just with the help from other guys who have already created teams, we were able to kind of figure it out," Saffold continued. "In a year, we were at the CoD World Championships. I'll never forget that first time that we walked into that tent and I saw our emblem on the stained glass. Every other time, all we did was see it on the computer, so it was just amazing to have all of that together."
Managing an esports team isn't all glitz and glory, though. It's also a full-time job, which can be tough when you're playing football for a living. It's definitely hard doing it day to day, but most of the time I'm usually more involved when it comes to the off season," Saffold said. "Now that we have so many events in the winter and the fall, I definitely want to be a part of that, but that's where Khareem comes in and helps me out with a bunch of that stuff. When it comes down to big decisions, of course, we always deliberate, but some of the things that are smaller, that take no time to handle, he takes care of it. It's really good to have that."
Even with his busy schedule, Saffold hopes to foster the same skills necessary in physical team sports in his own Call of Duty team, despite the distinctly different mediums. "It's all about the intangibles — the intangible skills. Leadership, mental toughness, drive, focus — all of those things go hand in hand with all team sports," he explained. "With them, you know, they're trying to move their thumbs as fast as humanly possible, pull the triggers, be able to see everything. With me, it's just all about effort — physically trying to put people into the ground. That's my MO. So it's a little bit different in that aspect."
Saffold believes he and his team can learn a lot from each other to become better athletes. "All of the intangibles are all the same," he continued, "so I think they feed off of me with that, and I feed off of them with that. A lot of times, I really like knowing that my teams are watching me play football games. I like to show, 'this is how you work,' so that you know how to do it in your own field."
At the same time, Saffold wants to keep his distance as coach and give Rise their independence. He wants to be a mentor, but he also understands that the team doesn't need to be lectured. "We're trying to let these guys be men. But when we do see anything that we need to pay certain attention to, we go in there and kind of nip it in the bud fast," he said.
Many of Rise Nation's players are older veterans that pretty much have the gist of team life figured out, so problems common with younger players are a rarity. When the scarce problems do arise, Saffold is the one to put a stop to it, playing "bad cop" to Khareem's softer side. "Sometimes it's like, 'Yo this is what's going on,' and I'll shut that shit down," Saffold said before laughing. "And then I'll come in like the parent that just yelled at their kids. 'Listen, I love y'all. Don't make me do this again.'"
Fostering young talent is more of a blessing than anything else, though. "A couple of my players on Overwatch are barely 18, if that, so it's good to help them grow up a little bit," Saffold said. "They've never been flying out anywhere or hanging out at these events, so this is big for them." In joining Rise, these young players are exposed to life-changing experiences they wouldn't have had otherwise, and that's immensely rewarding.
On the outside, Saffold's own teammates on the Rams are more curious than anything about his work in esports. Some expressed interest in buying a percentage of the team — an idea that Saffold was quick to turn down — but he is looking into ways to get his fellow Rams involved in Call of Duty esports.
"There's some people that I already have an idea to get involved that do a little streaming on their own," Saffold said. "I won't name them yet because we still gotta finish talks, but it's nice to have people that know what you're going through outside of esports to come in and know how to work with you."
While a good number of Saffold's NFL compatriots play Call of Duty, Saffold is still working on convincing them that competitive Call of Duty takes some real talent. "A lot of them like to play Call of Duty Hardcore (a gameplay mode), which is beyond me. I don't understand that. It's literally like, you could accidentally press your trigger and kill somebody. There's no skill at all. And they're just like, 'Ah, man. You need so much skill to play Hardcore.' And I'm just like, 'Ahh, see. Y'all honestly suck,'" he said with a grin. "They know it, they've played, and they don't know how much skill goes into it until they've played really good people. They're starting to understand that."
At the same time, other teammates lack any understanding of what he does, period. "They're just like, 'You playing a game, bro? You play for them?' I'm like, 'No! I don't. I don't play. I own them,'" Saffold said with a good-hearted laugh. "That sounds terrible, but, you know, they always think that I'm playing and I'm just like, 'Dude. There's no way that I have time to work as much as I do playing football and then come home and play.' They play 12 to 16 hours a day. It's nuts."
Apart from teaching his teammates about esports, Saffold hopes to interact more with his new community in Los Angeles. Afterall, he got his start in the Call of Duty World League with encouragement from fans. "I'm trying to actually get things started to where the new Call of Duty comes out that I get to play with fans and bring people that are around the area to come down to get those things started," Saffold said. "But, you know, we're in a new city so we have to start from scratch all over again. I used to do the same thing in St. Louis."
Getting in touch with fans is integral to building up the league itself. "This league is really led by the fans. You look at the NFL — there's so many people watching already. It doesn't even matter. People wanna support their city. Fans from back in the day want to come in and support their old towns in different cities, so it's — that's already taken care of itself," Saffold explained, drawing the connection to football. "For esports, it's growing, and most of it's growing online, so once we start hitting the mainstream, it's gonna have to be some educational things that go on to try to help this thing get bigger and better every year. But we're on our way."
Seeing esports' massive expansion over the past few years, it's easy to grow impatient waiting to see when these games will break into the mainstream. But sports won't become a household name overnight, and Saffold is well aware of that.
"It's gonna take time. I mean, the NFL wasn't the super power that it was all in one fell swoop. It wasn't even the NFL," Saffold noted. "It was split up between two different organizations, and then it adapted and changed, and over time they finally figured it out. With the E-League, with, like, as you said, seeing StarCraft, seeing World of Warcraft, League of Legends on ESPN, it's gradually getting to where people want it to go, but people have been watching baseball since the 1900s and football since the '20s. It's the same with esports. It's gotta run its course first."
If you ask Saffold, the broader world of esports has a bright future ahead of it. Exciting things are underway. When asked about the future of the industry, he joked, "If I told you I'd have to kill ya," before continuing in all seriousness, "But literally — I've seen it a million times. Something's got to be going right if you've got so many influential people getting involved at once. I mean, there was a surge when Rick Fox decided to jump into esports. There was a surge. There were so many people that just started investing, period."
The rise in esports investment was no accident, either, according to Saffold. "As soon as [Fox] decided to catch on, it just spread like wildfire, which means they know something," he explained. "The trend is definitely going up, and if you've got so much money backing it like that, it only has one place to go, and that's up."
Saffold's excited for the coming year for Rise Nation, especially after his Call of Duty team won the MLG Vegas tournament with a solid performance. But he's also looking forward to developments in the Call of Duty World League and esports in general.
"I think Call of Duty is seriously just inching towards being those top guys. Which, you know, people love those PC games," he quipped. "I saw the StarCraft World Championships from 2006 in South Korea — 100,000 people watching one screen. What? Like what? Like, what does it look like now?" Indeed, trying to imagine the exponential rise of esports within just a decade is hard to even fathom.
"You just see this little kid — he's got glasses on, just smiling all the time and he's like a superstar," Saffold said, citing some of the top Korean players in StarCraft and League of Legends who've become formidable, world-class players.
Saffold wears his pride and passion for all things esports freely, as evidenced by his presence at live events and the Rise Nation decor plastered across his social media accounts. His anticipation for esports' growth matched the overall feel of MLG Vegas. "I'm just excited for what's next to come, man. I'm telling you. Watch, it's gonna take some time, but eventually there's gonna be like an esports channel that you can get on TV, like a package," he predicted. "It will be awesome."