Lief Therapeutics's Hidden Wearable Patch Can Chill You TF Out
Wearables are about way more than just health.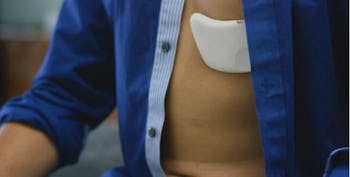 Lief Therapeutics
Most wearables are a dead giveaway — Apple Watches and Fitbits ride on the wrist in plain sight — but they don't have to be. Lief's new wearable patch is something a bit more subtle, and it's focused on making your life a little easier, instead of just reminding you to take the stairs a bit more.
The Lief sticks directly to your skin, just over your heart. Its primary function is to regulate your breathing, vibrating slightly to prompt you to exhale — like guided meditation from an over-the-skin pacemaker. The company debuted the patch at the San Francisco Worlds Fair Nano, a futurist convention held recently.
"This is a product very much designed for the busy, urban professional," explained Nathanael Wolfe, co-founder of Lief. The Lief is small enough and slim enough that when worn under clothes, it's virtually unnoticeable. The idea is that it will help fast-paced individuals manage stress without needing to take hours out of their days to go to a meditation hall.
When the Lief recognizes stress, it will alert users and guide them through a breathing exercise which will increase Heart Rate Variability, which is linked to stress resistance. Wolfe and his co-founder, Rohan Dixit, spent years researching different breathing exercises, even traveling to the Himalayan Mountains to study the meditation habits of Tibetan monks.
"Design was very important, making sure that the Lief is discreet so it can be worn at all times," Wolfe explained. And true enough, all of the promotional materials Lief has released shows the smart patch sitting unnoticed under clothes as people who wear it go about their life. "One of Lief's challenges will be in user adoption and continued use. We're entering a time when the behavioral design that accompanies a wearable must include understanding uses goals," says Wolfe who revealed that future iterations of the Lief will be waterproof, and have an even more ergonomic design for a more comfortable fit.
While Wolfe stops short of calling the product medical, the idea that wearables could focus more on tracking heart rates for stress, rather than exercise is an interesting counterpoint to products like the Apple Watch and Fitbit which have established themselves firmly within the health and fitness crowd.
"Our team built this project to bring awareness to the body, and help users understand the connection the heart has with our thinking, feelings, and even beliefs," Wolfe says. Peace of mind doesn't come cheap, though — the Lief retails for $229.99.