Winona Ryder was the Most Memeable Thing at the SAG Awards
Her emotional journey caught the internet's attention.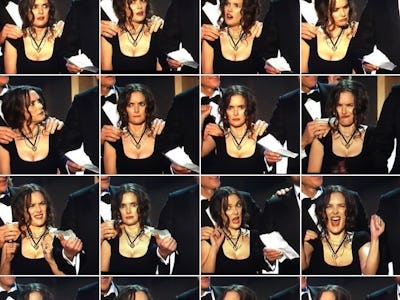 Getty Images / Kevin Winter
Sunday night at the 23rd Annual Screen Actors Guild Awards, the Stranger Things cast won the award for best ensemble in a drama series and Winona Ryder stole hearts all over the internet thanks to the emotional journey that she had on stage. Social media had a field day with the actresses' flurry of facial expressions, and she became the breakout meme of the show.
The Netflix series's actors jumped on stage to receive the award and David Harbour — who plays Chief Jim Hopper — took the opportunity to send a message about fighting back against intolerance and hate that have spiked in part of Trump's first week in office and calling for a travel ban over the weekend. Harbour said, "And through our craft, cultivate a more empathetic and understanding society by revealing intimate truths that serve as a forceful reminder to folks that when they feel broken and afraid and tired, they are not alone."
During the entire speech, Ryder stood to the side of Harbour with an endless stream of emotions on her face. She looked confused, excited, and even pumped her fist in the air at one point. And that's when the internet gave her the good ol' meme treatment.
It's only been a month since 2017 started, but we've felt all the things Winona did on stage.
A screenshot for every occasion.
Many more Demogorgons to be faced.
A Winona for almost every day of the month.
Yep, the White House chief of staff had us all breaking out in these faces.
Some pointed out the range of emotions of Ryder's onstage performance that some other movies lacked.
Fans can play bingo with all the faces Winona served up.
Just give this woman an EGOT already.
This isn't the first time that Stranger Things turned the internet upside down. Plenty of people were churning out title spoofs with the eerie red lettering. And the Christmas lights that Winona's character uses to communicate with her missing son were also turned into a goofy meme.
Stranger Things Season 2 is expected to come out sometime later this year. Our feelings about that? Just turn to Winona.