Watch Student Teams Compete in the SpaceX Hyperloop Pod Competition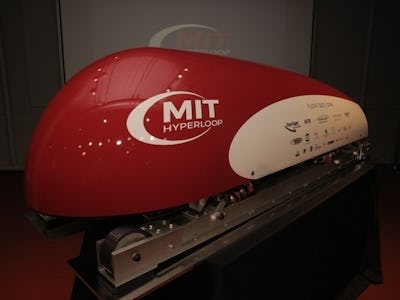 This weekend marks the first of two competition weekends for teams vying to build the best vehicles for traveling in Elon Musk's Hyperloop. For this event, SpaceX built a test track for the high-speed ground transport system at its headquarters in Hawthorne, California. The 30 teams, pared down from an initial 125 entrants, consist of university students. These teams have spent the last year working on pods that are big enough to fit people, though the vehicles are not required to actually be crewed during the competition. As Inverse has reported, the competitors' pods will be judged on their levitation, braking, control, high-speed acceleration, and telemetry. In the summer of 2017, SpaceX will host a second Hyperloop competition whose only judgment criterion will be maximum speed.
Inverse will continue to bring you updates and highlights from the competition throughout the weekend.
On Saturday night, SpaceX tweeted that competition coverage will begin at 1:55 p.m. Pacific time (4:55 p.m. Eastern) on Sunday at Hyperloop's website.
In 2016, the Hyperloop design competition went down at Texas A&M University. The design presentations were private, but you can watch the awards ceremony.
Here's the TL;DR version of that competition: MIT's team won. Inverse talked to the team after their win, and found out that their design didn't have room for cargo or a passenger. That fact didn't matter for that initial competition, though, since it was more of a proof-of-concept. But since cargo or passenger capacity is a requirement of this weekend's competition, we'll be watching closely to see how well the current competitors can fulfill that goal while also fielding pods that meet the five judging criteria.